The Indigo Girls discuss the Women's March and using music to galvanize anti-Trump resistance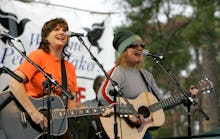 At almost every step of his campaign to the White House, President Donald Trump made a show of denigrating women. Multiple accusations of sexual assault followed him into his swearing-in ceremony Friday, in addition to scandals surrounding his "grab them by the pussy" comments and other pointed, disparaging behavior. 
Saturday, he will have to face those abuses, in part, by watching thousands of women around the world rally for the Women's March, an event standing for solidarity and equality, and opposing Trump's divisive election rhetoric. The talent gathering in Washington will make Trump's safe, largely white, "traditionally American" group of performers look like a high school battle of the bands: Janelle Monae, Maxwell, pioneering rapper MC Lyte and veterans of the political music sphere, Grammy award-winning folk duo the Indigo Girls.
Musicians Amy Ray and Emily Saliers have rarely backed down from an opportunity to use their songs as a tool of resistance. They have campaigned for environmental awareness, most recently leading a #NoDAPL boycott. Additionally, they've fought for gay rights, trans rights and the rights of Native Americans throughout their musical career.
"We are marching to bring many issues to light and to protect our rights in the wake of a presidency that threatens them," Saliers said in an email exchange with Mic, describing their participation in this movement. "We are marching to combat racism, to fight for reproductive and health rights, for a woman's right to choose what happens with her body, to protect the rights of queer people, to stand up against mass deportation, to honor the differences among us."
The Indigo Girls' perspective feels valuable on the eve of this march, the size and fervor of which may very well eclipse the attention paid to Trump's official inaugural events. Mic spoke with Saliers via email to talk about the opportunities the march presents for them.
Mic: What does performing at the Women's March mean to you personally, politically or professionally? 
Emily Saliers: Personally, it means being with my family, especially my daughter who will witness what women do when they come together to raise awareness about critical issues. She will witness the power of citizenship and direct action and feel her place in it. 
Politically, we will be heard and we will not stand by while a new administration attempts to dismantle the progress of inclusion we have worked for. Professionally, we will join so many of our sisters in music and be reminded of the power of music to galvanize people and lift our spirits in the face of oppression or difficulty. I am grateful that we have been able to make music for so many years, but more importantly, experience music as a conduit for change and transformation.
How does this cause feel like a better use of your talent than performing at Trump's inauguration? 
ES: I believe that women will be the difference in turning the tide towards justice and inclusion. Jimmy Carter says we need more women at the tables of diplomacy and peacemaking. We are exercising the profound strength of our womanhood and the strength of our allies and accomplices. 
Trump has denigrated women. There is no place for us at his inauguration. There is a place for us in the march. This is where we will use our talents, but more importantly, this is where we will join with others who will never give up the fight for justice.
Does the band see a hope for creating a more constructive dialogue between Trump protestors and supporters on the horizon? 
ES: Personally, I don't hear a lot of constructive dialogue yet. The divides are great and the bitter acrimony of the election is fresh. While things shake out, we will remain active and we will work tirelessly to support Black Lives Matter, Planned Parenthood and any of the myriad groups who foster care, public education, cross-cultural and racial understanding. 
We've got work to do. If Trump supporters don't come along, we will leave them behind on the wrong side of history.