Nintendo Switch Price Drop: Will lower prices in Europe affect US pre-order cost?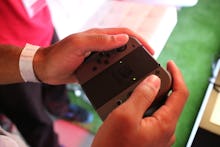 The Nintendo Switch price was confirmed along with the release date, screen size and more during the company's much-awaited Jan. 12 event. The $299.99 admission price for the console may not seem high here in North America, but prices vary based on different exchange rates around the world. 
Luckily for Nintendo Switch fans in the United Kingdom, prices have already begun to drop. Will the same thing happen in the U.S.?
Nintendo Switch Price Drop: What new costs can you expect?
In the U.K., the Nintendo Switch will continue to cost £279.99. However, while games were originally expected to go for £59.99 in the U.K., Gamespot reports that many retailers are dropping prices by £10. Shops like Amazon and Argos now list games like Legend Of Zelda: Breath of the Wild for £49.99. 
The Nintendo Switch itself, however, hasn't received the same price drop among many retailers. Though some, such as European retailer GameSeek, as Mirror reports, have lowered the price to just £198.50.
Nintendo Switch Price Drop: When could Nintendo lower prices across all regions?
Here in the United States, you can still expect to pay $299.99 for the console and $59.99 for the games. When will this change?
While it's likely that Nintendo Switch titles will remain around the $50-$60 range, the console itself could see a price drop. Nintendo might choose to lower the console's price in time for the holidays — especially with Super Mario Odyssey on the way around that same time. A bundle that includes the console and the new Mario game could also help entice new buyers.
Of course, we won't know for sure until Nintendo officially drops the price or retailers can offer discounts. For now, demand seems to be pretty high, but hopefully the Switch will eventually be available for a lower price.
More Nintendo Switch news and coverage
For more info on what Nintendo revealed during its livestream, here's where you can get our hands-on with the Nintendo Switch, details on the Nintendo Switch price, release date, pre-orders and battery life. If you're interested in the Nintendo Switch's games, here's info on the new Super Mario Odyssey game, Legend of Zelda: Breath of the Wild, Splatoon 2, Xenoblade Chronicles 2, 1-2-Switch and the goofy boxing game Arms.