Valentine's Day gifts for the food lover in your life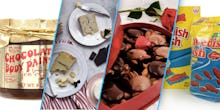 "Valentine's Day is a sham created by card companies to reinforce and exploit gender stereotypes," the great Liz Lemon once declared, right before buying cookies to celebrate the coincidentally timed February 14 birthday of famed American suffragette Anna Howard Shaw. 
But no matter what you're celebrating when February 14 comes around, it doesn't hurt to celebrate with food. 
If you're fortunate enough love someone more than food (okay, or equal to food), celebrate that love with what may be the only appropriate gift to show how much you care: more food. 
Chocolates, candies, cheese, champagne and more are all fantastic ways to show your adoration for another person, especially if that person loves food as much as you do. 
And the best part about food gifts? They're often shared ... Make February 14 a tasty date night by giving these sweet and savory treats to your sweetie this Valentine's Day (or Anna Howard Shaw Day, whatever you celebrate). 
Chocolate turtles 
$36.75, PhilipsChocolate.com
Saying "I Love You" with a heart-shaped box of chocolates is so cliche that it's cute again, especially when the chocolates inside are as sticky, gooey, crunchy and melty as these turtles. Good luck getting the giftee to share the dark and milk chocolate turtles in this Valentine's Day box. Maybe buy a second box for yourself. 
Murray's Cheese Valentine's Day collection
$100, MurraysCheese.com
If cheese and chocolate are the third and fourth wheels in your relationship, you're very much going to want to gift Murray's Cheese's first-ever Valentine's Day collection. The box contains a pound and a half of cheese, including the truffle-flavored pecorino Moliterno al Tartufo; creamy cow, goat and sheep's blend La Tur and a tangy Cambozola Black Label. Mast Brother's chocolate and crackers are also included. 
Fresh cheese making kit
$25, FarmSteady.com
If your other half is more of a DIY dairy fiend, or just wants to break in to the exciting world of soft cheese making, gift this kit which has all the equipment and ingredients necessary to make mozzarella, burrata, ricotta and mascarpone. Just add milk! 
Compartés x Winc Sparkling White Blend
$28, Winc.com
Another lovely pairing: Bubbly and chocolate. Fashion-forward California-based chocolatier Compartés has teamed up with Winc to create a bottle of sparkling wine which pairs perfectly with a bar of Dark Chocolate Vanilla Salt, both wrapped in adorably matching outfits. Share the stellar combo with your better half, because it's too cute not to. 
Salami bouquet 
Flowers wilt, but salami is forever. Well, not quite, but at least the cured meat has a seriously longer shelf life than those flowers you splurged on. This artfully arranged bouquet is made of three different types of specialty salami, i.e. the best snackphrodisiac to share during a cuddly night in. 
Veuve Clicquot Clicq'call
$69.95, PremierChampagne.com
Call it gimmicky marketing, or call it love, but Veuve Clicquot's Clicq'call box makes checking voicemail fun. The decorative box lets you leave a recorded memo for your Valentine, which can be repeated or recorded over if you want to have some pre-Champagne popping.   
Tom and Sally's Edible Chocolate Body Paint
$16.55, Amazon.com
What's better than chocolate? Chocolate that you can play with, obviously. This gooey chocolate sauce comes with its own paintbrush so you can create some sweet body art — and lick it off. 
Cooking for Jeffrey by Ina Garten
$21.71, Amazon.com
Perhaps the most romantic cookbook ever written, Ina Garten's newest recipe collection dedicated to her husband, Jeffrey, who encouraged her to pursue a career in food and cooking after working in politics, is a fantastic gift for both newbie chefs and Barefoot Contessa obsessives. Cook up a recipe (or several) from the glossy pages interspersed with story of the adorable couple's romance and marriage for Valentine's Day dinner!  
Giant box of Swedish Fish
$22.99, ItSugar.com 
Weighing in at almost 2 pounds, this enormous box of Swedish Fish makes a statement. And that statement is: I didn't know what else to get you but I plan to spend the rest of winter cuddling so let's have something to snack on while we do that. 
Jeni's Valentine's Day pint collection
$55, Jenis.com
Does it get any more romantic than pints of ice cream delivered at your door? Spoiler: It does not and we warn you not to fall in love with the delivery person, unless this is a gift for yourself. This special Valentine's Day collection includes five of Jeni's most loving pints, including Roxbury Road, a fancy version of Rocky Road laced with homemade marshmallows and caramel sauce. 
The Bitter Truth pink gin
$39.99, Caskers.com
Gin lovers will adore this pink-hued gin, which has hints of licorice, caraway and fennel in its rose-hued liquor. Those who are lovesick may also find solace in a bottle of pink gin: The blushing spirit was once thought to be a cure for seasickness. 
Deep chocolate flapjack mix
$8.99, UrbanAccents.com
Breakfast in bed, or perhaps even better, breakfast for dinner in bed, gets a decadent twist with this luxe dark chocolate pancake mix that can be whipped up in a matter of minutes. 
Custom heart photo mug
$18.99, Etsy.com 
Okay, it's super cheesy, but you know it will make your partner laugh and probably smile every time they drink from this embarrassing masterpiece of ceramic ware. 
Le Creuset Heart Cocotte
$150, LeCreuset.com 
Make your Valentine's Day cooking even sweeter with this heart-shaped cast iron pot which is suitable for stovetop or oven. If you're the cook in your relationship, consider gifting this with a cake baked in it or some sexy slow-cooked short ribs. 
Jamón tasting trio
 $74.95, Tienda.com 
Make Valentine's Day a menage a trois, or tres, if you will, with this alluring trio of Spain's greatest hams, all to be eaten with your fingers, of course.
Chocolate-dipped bacon
$10, geneseecandyland.com
Skip whatever box of chocolate you were going to gift (unless it's turtles — gift the turtles!) and go for this ultimate combo of the best treats in life: chocolate and bacon. Relationship status = secured.