Netflix's 'Legend Quest' is enjoyable for adults and reminds Latino kids that they matter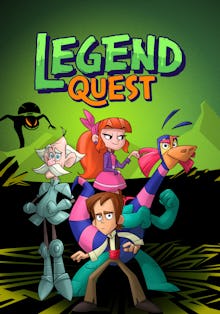 The first animated Netflix original series produced in Latin America is coming to the streaming service Feb. 24. It's called Legend Quest (Las Leyendas in Spanish) and it's not just for kids. The show deftly weaves Mexican history and folklore with humor and a distinctly spooky touch à la Scooby Doo.
Legend Quest is a mythological mish-mash based on a series of children's movies by Anima Estudios, one of Latin America's leading animation studios. The trilogy includes La Leyenda de la Nahuala (The Legend of the Nahuala), La Leyenda de la Llorana (The Legend of the Llorona) and La Leyenda de las Momias (The Legend of the Mummies). Created by the Mexican producer Ricardo Arnaiz, the Legend Quest characters were reinterpreted for U.S. audiences by writer/producer James Krieg of Spooksville fame.
What the show is about
Legend Quest revolves around Leo San Juan, a teenage boy who lives in 19th-century Mexico. But Leo isn't just any teen boy. He has the power to communicate with the supernatural. That ability means Leo gets drawn into all sorts of adventures, whether he likes it or not. 
The adventures pick up when Leo's hometown disappears into another dimension. On that day, Leo teams up with the loopy conquistador Don Andrés, the tech-savvy Teodora, the fantastical creature Alebrije and Finado and Moribunda, two calaveras, or Mexican sugar candy skulls. Together, the troop must put an end to the evil antics of Quetzalcóatl, the feathered serpent god of Mesoamerican lore. 
Leo's quest unfolds over the course of 13 colorful episodes. 
What adults will like about it
Parents, baby sitters and other child care providers may have a difficult time watching some children's shows. Jokes may lack nuance, the songs can seem redundant (perhaps even grating) and there might even be a lack of dramatic tension. But Legend Quest has its share of inside jokes and plot twists for adult viewers. 
For instance, when Don Andrés talks about the game Leo invented — "legball" — never catching on, adults will chuckle because they know he's talking about fútbol, or soccer. Children, at least younger ones, might not get it, but that's OK. Some jokes in children's shows really are meant for the grown-ups who are sharing the screen with kids.
Another boon to the show is the cultural awareness. Legend Quest makes plenty of educational nods to Mexican history and folklore. Even history and mythology buffs will find themselves Googling references and double-checking dates. The range of legends and historical events that have inspired different characters and scenes is surprisingly sophisticated. Little kids may not care to know all of the particulars, but doing a bit of research can help engage adults and even give them a chance to geek out a little. Plus, that research could be a great launching point for educating your child. A trip to the library or an arts and craft activity may be in store.
Perfect timing
Considering all of the offensive comments President Donald Trump has made about Mexicans and other Latinos (inspiring movements like the #TacoTrucksOnEveryCorner hashtag), U.S. companies should be going out of their way improve international relations. A partnership between a U.S. company like Netflix and a Mexican company like Anima Estudios is a perfect example of such an international partnership. 
A show like Legend Quest can teach your children the importance of being open-minded toward other cultures. And if you and your children happen to be of Mexican heritage, then watching Legend Quest will help you honor your roots. At this time in U.S. history, Latino children need a reminder that they and their people are important. As the Los Angeles Times reported, Trump's Cabinet lacks Latino members. That's a first for the Cabinet since the 1980s.
Either way, U.S. television shows needs more imaginative, non-stereotypical representation of Latino cultures. Legend Quest demonstrates how to accomplish that goal with authenticity.
Mic has ongoing Netflix coverage. Please follow our main Netflix hub.