Is Netflix's 'Frontier' a new drama based on real events?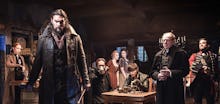 Netflix has now released all six episodes from the first season of Frontier, the Discovery Channel-produced series that explores the often-violent fur trade in 18th-century North America. You may be wondering whether the Jason Momoa-starring series is based in fact or fiction. Well, it is a bit of both. 
Frontier is based on the fur trade, a business that was very much real. Further, Hudson's Bay Company, which is featured prominently in the series, is a real company that has existed since the 17th century. In fact, whether you realize it or not, you see Hudson's Bay Company's department stores everywhere you go. The company's holdings include Lord & Taylor and Saks Fifth Avenue, as well as a handful of other department stores. 
Regarding the fur trade, Hudson's Bay Company's website reads: 
The fur trade brought the First Nations and Europeans together in a mutually beneficial commercial venture and helped create a country in the process. For 200 years the trade in furs was HBC's core business.
Still, the characters and events in Frontier are dramatic fiction. Series star and executive producer Allan Hawco described the show to the Huffington Post Canada as one of dramatic historical fiction. Of course, fictional or not, creating a series that explores real industry requires a lot of research, as Momoa explained to USA Today: 
I did a lot of research, but the thing that was most useful for me is just relating it to my life. Just being a father, if anyone were to do the same to my family, what would I do? There's a lot of stuff I can read and look up, but there wasn't one fact that set me off. It was actually me wanting to play in that time period.
You can now watch all episodes of Frontier's first season on Netflix. The series has been renewed for a second season.