'Red Dead Redemption 2': Nintendo Switch release odds "exceedingly poor"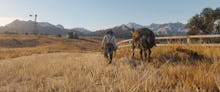 Despite still being listed as a 2017 release, we know precious little about Red Dead Redemption 2. The follow-up to the classic 2010 wild west game from the creators of Grand Theft Auto is launching on PS4 and Xbox One with some emphasis on multiplayer. Other than that, there isn't much to go on.
That includes whether the game will eventually come to other consoles, like the Nintendo Switch, for example.
Red Dead Redemption 2: Nintendo Switch release doesn't look likely
Red Dead Redemption 2 was coincidentally announced on the same day as the Nintendo Switch back in October, but there has been no indication the game will ever come to Nintendo's newest console. Speaking to GamingBolt, well-known games industry analyst Michael Pachter said the chances of the game coming to Switch are "exceedingly poor":
"I can't remember any game other than — there was a GTA made for the DS, which came out in 2009 — I'd be really surprised if they wasted their effort to port anything for Nintendo. I just think that Nintendo has wandered too far away from the mainstream for most of the publishers, so you're just not getting mainstream games produced for Nintendo consoles — not ones made for other consoles, at any rate."
Keep in mind Pachter, like any professional prediction maker, occasionally gets things wrong. One man's business-driven take is not the same as an official statement. Still, there's little grounds to argue against what Pachter's assertion.
He's correct that Rockstar Games has avoided Nintendo for a long time. Grand Theft Auto: Chinatown Wars for DS and Table Tennis for the Wii are the most notable games Rockstar has published on Nintendo consoles over the past decade. The company does not have particularly strong ties to Nintendo.
We also have no idea whether the Switch could even run Red Dead Redemption 2. Like the past two Nintendo consoles, the Switch is presumed to be significantly less powerful than the PS4 and Xbox One. The game appears to be taking full advantage of the capabilities of those two consoles.
Again, never say never. The game could come to Switch at some point in the future, even if it's in a compromised state. Don't bet on it happening in 2017, though.
More Nintendo Switch news
For more info on what Nintendo revealed during its Switch presentation, here's where you can get details on the console's price, release date, pre-orders and battery life. If you're interested in the Nintendo Switch's games, here's info on the new Super Mario Odyssey game, Legend of Zelda: Breath of the Wild, Splatoon 2, Xenoblade Chronicles 2, 1-2-Switch and the goofy boxing game Arms.