'House of Cards' Season 5 Release Date: Here's when Frank and Claire Underwood will return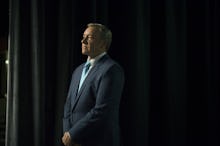 President-elect Donald Trump's inauguration is underway, but Netflix's House of Cards dropped news early Friday morning that fictional president Frank Underwood will be returning to office May 30. 
The official House of Cards Twitter account posted a short teaser video with the comment, "We make the terror." 
The teaser video has the words of the Pledge of Allegiance at the bottom as the camera slowly pans out on a zoomed-in American flag. But as the shot widens, we see the flag is actualy upside down, probably to represent the aboslute corruption of Underwood and the distress he's causing in the country.
Even still, Underwood is a character we love to hate, what with his sincere comments directed straight to the camera, his insatiable drive to take power by any means necessary and his cunning ability to pull the wool over America's eyes.
Frank and Claire Underwood are coming back to Netflix May 30.