Twitter has field day mocking the overwhelming whiteness of the Mormon choir at Trump's inauguration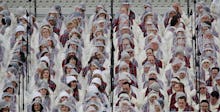 The struggle was real for President Donald Trump to fill out the bill for his inauguration ceremonies. As soon as his team attempted to book acts, performers faced swift backlash. Several withdrew their participation with some of the swiftest rebukes coming from black performers Jennifer Holliday and Rebecca Ferguson.
When his team finally assembled their bill, it was surprisingly (or unsurprisingly, depending on your view) monochrome. Nowhere was that whiteness more glaringly obvious than with the Mormon Tabernacle Choir, the second choir to perform at the brief inauguration ceremonies Friday.
Looking at the stunning ranks of white faces in the stands, Twitter just couldn't hold back the savagery. For many, it seemed a perfect summation of the Trump administration's latent white supremacist leanings.
Others, such as Samantha Bee, host of Full Frontal, joked that as white as the choir's make up was it was still more diverse than the Make America Great! Celebration show in front of the Lincoln Memorial last night, which featured 3 Doors Down, Toby Keith and two acts of color — DJ RaviDrums and Sam Moore.
The Mormon Tabernacle Choir notably faced its own internal and extrenal controversies on its way to the inauguration stage. A petition demanding the choir step down, citing the wide gulf between Trump's politics and the values of the Mormon Church of Latter Day Saints drew over 36,000 signatures, and at least one performer resigned from the choir, objecting that: "It will appear that choir is endorsing tyranny and fascism by singing for this man."
The choir appeared anyway, and served as the perfect kick off to Trump's implicit mission to make America white again.