Here's what happens to Obama's Twitter now that President Trump has taken over @POTUS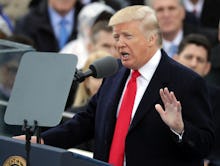 It's now Twitter-official: Donald Trump is the 45th president of the United States. His tenure now includes control of presidential Twitter handle @POTUS, previously occupied by Barack Obama. 
As Trump delivered his inaugural address, during which he told Americans he would transfer power from Washington to the people, the Twitter account was seamlessly stripped of Obama's branding and replaced with American flags and Trump's image.
Where do Obama's tweets live now? There's still @BarackObama, an account run by nonprofit Organizing for Action. But for a more personal feed — along with previous @POTUS tweets — follow @POTUS44, here the now-former president's signature brand of optimism shines on. 
What about Michelle Obama and Joe Biden? They've moved, too. @FLOTUS now belongs to Melania Trump and @VP is now Mike Pence. Michelle Obama has moved to @FLOTUS44 and Biden is tweeting at @VP44.
Something amazing you probably missed: As eagle-eyed New York magazine senior editor Kyle Buchanan pointed out, Trump's Twitter header — a photo featuring excited crowd-goers waving flags — likely isn't from his own inauguration. 
It probably came from Obama's first inauguration in 2009. 
And no, that wasn't Obama's header photo.
If these crowd comparisons are any indication, it makes sense Trump's Twitter team didn't have as many options as they hoped — the 2017 Inauguration's turnout was a little less impressive.
Update: Jan. 20, 2017, 5:00 p.m. 
The @POTUS Twitter header photo ditched Obama's inauguration for a standard American flag — and then changed it again. Here's the latest.