David Duke just congratulated Donald Trump on his swearing-in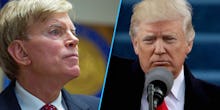 Following President Donald Trump's oath of office, former Ku Klux Klan leader David Duke took to Twitter to extend his congratulations to the new president.
"We did it!" Duke wrote Friday afternoon. "Congratulations Donald J. Trump President of the United States of America!"
Duke voiced his support for Trump during his presidential campaign, agreeing in an interview with NPR's Morning Edition in August that Trump's voters are his voters.
"Well, of course they are!" Duke said at the time. "Because I represent the ideas of preserving this country and the heritage of this country, and I think Trump represents that as well."
Trump and Vice President Mike Pence have been criticized for their hesitance in explicitly denouncing Duke and the support of white supremacists. 
In September, when CNN's Wolf Blitzer asked Pence if he would term Duke "deplorable," Pence skirted a blunt yes or no answer, but did say that he and Trump rejected his support.  "We don't want his support and we don't want the support of the people who think like him," Pence told Blitzer.
Yet when faced with a similar question just months before, Trump told CNN, "Just so you understand, I don't know anything about David Duke, OK?
"I don't know anything about what you're even talking about with white supremacy or white supremacists," he continued. "So I don't know. I don't know — did he endorse me, or what's going on? Because I know nothing about David Duke; I know nothing about white supremacists." 
Still, it would appear that Duke knows something about him.