Three big takeaways from Donald Trump's inaugural address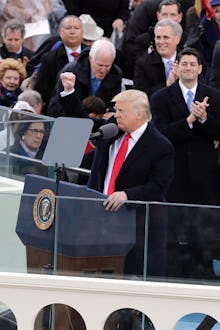 President Donald Trump struck an angry, anti-establishment tone in a nationalistic inaugural address Friday at the U.S. Capitol.
"The forgotten men and women of this country will be forgotten no longer," Trump said while speaking before the somewhat less-than-yuuge crowd that turned out for his swearing-in ceremony. 
"From this day forward, it's going to be only America first — America first."
As he did in his speech at the Republican National Convention last summer, Trump painted a grim picture of "American carnage," saying that Washington elites "flourished" while the people did not, and that America made other countries rich while its "factories shuttered."
"America will start winning again," Trump said. "Winning like never before."
Here are the important takeaways from his 15-minute address:
Trump vows a "new national pride"
"America first" was the key phrase of Trump's first speech as the nation's president. He promised a "new national pride" and to make "total allegiance to the United States of America" the "bedrock" of national politics.
"Every decision on trade, on taxes, on immigration, on foreign affairs, will be made to benefit American workers and American families," Trump said. "We must protect our borders from the ravages of other countries making our products, stealing our companies and destroying our jobs. Protection will lead to great prosperity and strength."
He also pledged allegiance to "all Americans," saying that "when you open your heart to patriotism, there is no room for prejudice."
"When America is united, America is totally unstoppable," Trump added.
Trump rails against "establishment"
Trump, the first U.S. president without any previous military or government experience, campaigned as an anti-establishment outsider. In his inauguration speech Friday, he continued to rail against the establishment, saying that it had "protected itself but not the citizens of our country."
"Their victories have not been your victories. Their triumphs have not been your triumphs. And while they celebrated in our nation's capital, there was little to celebrate for struggling families all across our land," Trump said. "That all changes — starting right here and right now, because this moment is your moment. It belongs to you."
He also took an angry shot at politicians "who are all talk and no action — constantly complaining but never doing anything about it," which echoed his recent attack on civil rights icon Rep. John Lewis, who boycotted the inauguration.
"The time for empty talk is over," Trump said in his speech. "Now arrives the hour of action."
Trump says he'll end "American carnage"
Trump continued to describe America in bleak terms. 
He bemoaned poverty, crime and "the sad depletion of our military" as "American carnage" and promised that the country would "thrive and prosper again," though he did not give any specifics as to how during the speech. He also addressed "radical Islamic terrorism," which he vowed to "eradicate completely from the face of the Earth."
He also said there should be "no fear" because "we will always be protected by God."
"You will never be ignored again," Trump said to "all Americans" as he wrapped up his speech. "Your voice, your hopes, and your dreams will define our American destiny. And your courage and goodness and love will forever guide us along the way."