Shia LaBeouf launches four-year, anti-Trump livestream called "He Will Not Divide Us"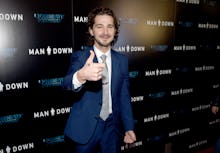 Remember when Shia LaBeouf was the star of the Disney Channel show Even Stevens? Well, LaBeouf has come a long way, transitioning into mainstream films like Transformers, Fury and Wall Street: Money Never Sleeps, and more recently to decidedly more alternative forms of expression, like a livestream of himself in an elevator for 24 hours. 
Now, LaBeouf is embarking on an even more ambitious livestream. Starting with Friday's inauguration of President Donald Trump, LaBeouf has set up a livestream at hewillnotdivide.us. The livestream, titled "HE WILL NOT DIVIDE US," will run continuously, 24 hours a day, seven days a week, for the next four years. Yup, you read that correctly. 
The livestream will capture members of the public who choose to say "he will not divide us," for as long as they wish in front of a camera outside the Museum of the Moving Image in New York City. The website states:
Open to all, 24 hours a day, seven days a week, the participatory performance will be livestreamed continuously for four years, or the duration of the presidency. In this way, the mantra "HE WILL NOT DIVIDE US" acts as a show of resistance or insistence, opposition or optimism, guided by the spirit of each individual participant and the community.
The livestream's first participant was none other than Will Smith's son, Jaden Smith.