5 things you might not know about Chuck Schumer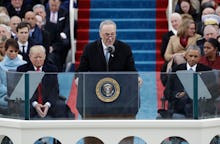 When Sen. Harry Reid (D-Nev.) retired at the end of 2016, Sen. Chuck Schumer (D-NY) ascended to the role of the Senate Democratic Leader, heading up a minority that is still determined to use its power to fight back against as much of the agenda Donald Trump and Republicans put forth as possible.
Schumer has been involved in the Senate Democratic Leadership since 2006, when he was elected as the vice chair of the Senate Democratic Caucus. This is his fourth term as a United States Senator from New York.
Here is a look at some of the pertinent facts about Schumer's background and personal life.
He's not as rich as some of his fellow Senators
Schumer's net worth was just over $700,000 as of 2014, according to the New York Daily News – though that did not include the worth of his house in Park Slope, Brooklyn, whose value would have skyrocketed since he purchased in in 1982. A net worth north of $700,000 certainly beats a stick in the eye, but it's nothing when compared with some of the millionaires roaming the halls on Capitol Hill.
He has been in politics for a long time
Schumer, born in Brooklyn, was first elected to office in 1974, when he joined the New York State Assembly. He was then elected to the U.S. House of Representatives in 1980 and finally joined the Senate in 1998.
His wife runs the New York Public Library
While Chuck is down in Washington, his wife Ira Weinshall is busy back in New York running a much more local institution: She's the COO of the New York Public Library. Before that, she served as the head of the New York City Department of Transportation under Rudy Giuliani.
He's a Harvard man, twice over
Schumer attended Harvard for both his undergraduate studies and for law school, according to his official biography. He never actually practiced law, choosing instead to go right into his political career.
He was a smart kid
In high school, Schumer got a perfect 1600 on his SATs, and he competed on the television quiz show "It's Academic!"