Is marijuana legal in Washington, D.C.? What to know about weed laws in the capital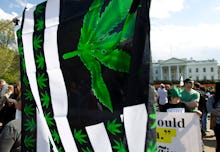 As hundreds lined up for a free joint from marijuana advocacy group DCMJ in Dupont Circle on the day of Donald Trump's presidential inauguration, there was one big question about the #Trump420 protest: Is weed even legal in Washington, D.C.?
In a word: yes. Washington voters in 2014 overwhelmingly supported a measure "that permits the possession of a small amount of pot for home use by people 21 or older." 
The greater confusion lies in the fact that the new law, thanks to Republican intereference, did nothing to establish a regulatory system for legal weed: Essentially, it's still illegal to sell it or smoke it outside the home. Federal employees aren't allowed to use it, either.
Most importantly for protesters, the parts of Washington under federal jurisdiction, which amount to 18 square miles, or 29% of the city, retain a hard ban on marijuana. So if you're toking up on the National Mall or at the Thomas Jefferson Memorial, arrest is a possibility.
As far as Inauguration Day goes, however, District of Columbia Mayor Muriel Bowser — who also defied Congress by implementing the law that legalized recreational weed in the city — said marijuana arrests "wouldn't be our first priority." 
So, you know, just try not to be a jerk about where you blow that smoke.