'Injustice 2' news: Why the DC Multiverse and fighting games are a perfect match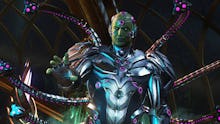 Superhero comics don't always translate well into video games, which is what makes the Injustice series stand out so clearly from other games built around Superman, Batman and Wonder Woman.
Injustice 2 will pick up right where Injustice: Gods Among Us left off, a continuation of a video game story that is a treat for DC Multiverse fans and very rich soil for fighting-game developers.
You've probably already seen the trailers, but we're here to give you a deeper breakdown of what to expect from Injustice 2.
The awesome history of the DC Multiverse
Don't get us wrong. Marvel Comics makes liberal use of alternate timelines, especially where the X-Men are concerned. But DC took the alternate timeline idea and stepped it up a notch with the Crisis on Infinite Earths series in 1985. The 12-issue series pulled many different alternate DC realities together into a cataclysmic war that snuffed out major characters and reconciled timelines.
Some of the best comics in the DC legacy are pegged on alternate universes. Frank Miller's seminal graphic novel The Dark Knight Returns is set in an alternate timeline where Batman is retired, Superman works in secret for the United States government and all the other heroes have fled the planet.
Kingdom Come is another limited series that depicts an alternate future where America has exploded with new superheroes, who are collectively referred to as metahumans. Superman, Batman and Wonder Woman all lead different factions, trying to find a balance between metahuman freedom and killing off supervillains who could destroy the world.
DC comics and alternate universes go very well together, and the mix gets even better when you throw in some video games.
Injustice: Gods Among Us is a superhero brawler with a vicious streak
The Injustice series takes advantage of the DC Multiverse idea by proposing an alternate world in which the Joker tricks Superman into killing his pregnant wife Lois Lane, leading Superman to murder the Joker. Also, a nuclear bomb goes off. Superman then finds an oppressive government to make sure nothing like that ever happens again.
Batman takes issue with this because — of course, he does — he's Batman. He begins recruiting versions of DC superheroes from alternate universes to form a resistance to Superman and his new army. This cast of characters became the roster for Injustice: Gods Among Us, the first game in the series that was praised for the authentic way it incorporated the DC universe. Injustice: Gods Among Us was no hard-nosed graphic novel adaptation, but it wasn't kids' stuff either.
Injustice 2 will have a huge cast of superhero characters to beat up
The advantage of playing off the Multiverse idea is that for any universe, the game can draw many different heroes, which means the freedom to experiment with fighter designs and combat abilities. 
The Batman-versus-Superman thing, which has been raining down on comics culture since The Dark Knight Returns and up through Batman v Superman, is not the central plot of Injustice 2 like it was the series's first game. 
Braniac is the bad guy this time, which is also authentic to the comics in that Brainiac utterly subjugates Superman in the second book of The Dark Knight series. Injustice 2 also includes fighters like Atrocitus and Gorilla Grodd, who may not be familiar to fighting-game fans but certainly will be for DC comics lovers. 
Sign up for Injustice 2 early beta access
Injustice 2 won't be released for PlayStation 4 and Xbox One until May 16, but you can sign up for early beta access and a chance to play the game in advance.