Donald Trump's "America First" inauguration message has a dark, anti-Semitic history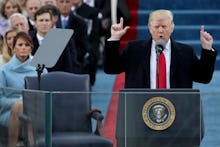 Other than President Donald Trump's signature campaign slogan — "Make America Great Again" — the most common refrain employed by the sometime reality television star has been "America First." 
The phrase was featured prominently in his inauguration speech on Friday. 
"From this day forward, a new vision will govern our land," Trump said. "From this day forward, it's going to be only America first." He added a refrain for emphasis: "America first."
Like "Make America Great Again," the call to put "America first" may seem relatively harmless on the surface — why shouldn't the president want to better the country and prioritize its citizens? But a closer look at the origins of the phrase reveals its insidious implications.
According to Williams College professor Susan Dunn's CNN op-ed from April, the term got its start with the "America First Committee," an organization founded in 1940 at Yale University by student R. Douglas Stuart Jr., future President Gerald Ford and future Supreme Court justice Potter Stewart.
The trio urged Congress against participating in World War II, "even if England is on the verge of defeat." They wanted instead for the United States to appease Adolf Hitler.
The organization soon replicated itself across the country, garnering millions of members, according to Dunn. And as its message spread, it soon became tied up in anti-Semitism.
"It had to remove from its executive committee not only the notoriously anti-Semitic Henry Ford but also Avery Brundage, the former chairman of the U.S. Olympic Committee who had prevented two Jewish runners from the American track team in Berlin in 1936 from running in the finals of the 4x100 relay," Dunn wrote. 
But try as they could, the group's leaders couldn't shake the anti-Jewish sentiments plaguing the organization. 
Charles Lindbergh, the famed aviator, had built a close relationship with Nazi Germany through the mid-1930s and late-1930s. In 1941, he became the face of the movement — and among the most heavily criticized for his anti-Semitic comments, especially those he made during an Iowa rally that September.
"The British and the Jewish races ... for reasons which are not American, wish to involve us in the war," he told the crowd. "A few far-sighted Jewish people realize this and stand opposed to intervention, he added. "But the majority still do not. Their greatest danger to this country lies in their large ownership and influence in our motion pictures, our press, our radio, and our government."
Trump is just the latest politician to since the 1940s to try to revive the "America First" slogan; several small parties, some of which have faced allegations of anti-Semitism, have periodically popped up. But none has rode the slogan to any where near the White House — except Trump.
And, most troublingly, Trump's rise to the presidency has also been colored by this kind of unshakeable anti-Semitic support. 
Following his presidential win, white nationalists gathered for a convention in Washington, D.C., to celebrate, raising their arms and declaring: "Hail Trump, hail our people, hail victory!" They saw Trump's victory as their own. 
Trump, of course, hasn't done much to denounce them. He was slow to reject the support of Ku Klux Klan leader David Duke who, along with the American Nazi Party, commended Trump for picking the controversial alt-right publisher and longtime media ally Stephen Bannon as his chief strategist. 
Trump's continued use of slogans like "America First" and his hiring of Bannon speak to his disregard for the anti-bigotry groups that have questioned these moves.
What's more, Trump's certainly stoked neo-Nazis' approval, most notably by sharing an anti-Semitic meme featuring Hillary Clinton. The image Trump circulated showed Clinton with a backdrop of money and the words "most corrupt candidate ever" emblazoned on a Star of David — which, after controversy erupted, Trump claimed was "sheriff's star." (Despite the excuse, the tweet was deleted and reissued with a circle sloppily superimposed on the star.)
Trump supporters who are inclined to these bigoted views can certainly read into the encoded message of the phrases "Make America Great Again" and "America First." Given their fraught histories, these terms likely sound like "Make America White Again," "Make America Christian Again" and "Put White, Christian Americans First." 
And boy, does that sound good to many Americans.