DC Protests: 217 arrested as police, protesters clash at Trump inauguration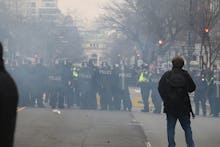 More than 200 people were arrested in Washington, D.C., Friday, after violent protests broke out on city streets during President Donald Trump's inauguration.
The Metropolitan Police Department announced that 217 people were arrested and charged with rioting, after protesters threw rocks and bricks, set fire to garbage cans and cars and broke windows of businesses.
Police fired pepper spray canisters and let off flash-bangs to try and disperse protesters, leading to a chaotic scene.
The protests took place in downtown Washington, D.C., not far from the parade route that Trump drove down following a lunch at the U.S. Capitol.
Protesters broke windows of local businesses, including a Starbucks, and set fire to garbage cans and signs in the street.
A statement from the Metropolitan Police Department called the protests a "coordinated attack."
"We had a small group that wanted to disrupt the inauguration," Interim Police Chief Peter Newsham said in a Periscope livestream.
The violent protests and ensuing arrests are in stark contrast to former President Barack Obama's inauguration in 2009 — when there were no arrests, according to a New York Daily News report from the time. 
In 2013, there were just three arrests at Obama's second inauguration, according to a Washington Post arrest from the time. Of those arrests, one was a protester who climbed a tree, while the other two were related to public intoxication and a person who had an outstanding warrant, according to the Washington Post.
This is a breaking story and will be updated.
Aaron Morrison and Jack Smith IV contributed reporting from Washington, D.C.