These are the pictures of security during the inauguration that you didn't see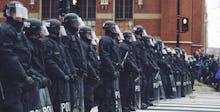 Much like everything President Donald Trump touches, his inauguration didn't come without controversy. 
The inauguration of Trump — with record-low approval ratings for an incoming president and likely record-low turnout for his ceremony — drew a number of protests. 
And where there's protest, there's often law enforcement. 
In accordance with inauguration protocol and in anticipation of demonstrations, Washington, D.C., was not short of security in its many forms. 
There were violent clashes between protesters and law enforcement Friday: Police let off flash-bangs, fired pepper spray canisters and arrested around 100 people. 
Around 28,000 officials were employed as part of the inauguration's security plan. These included police from departments within and outside D.C., the Coast Guard, the National Guard, Transportation Security Administration personnel and Secret Service, Homeland Security Secretary Jeh Johnson said one week before the ceremony, NPR reports. 
Here are 24 photos of just some of the inauguration's sprawling security plan in action.