7 images show what Trump's inauguration looked like to everyone roasting it on Twitter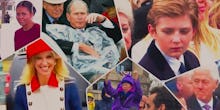 Fortunately for everyone, the internet only knows how to process its collective anxiety in one way: through memes. 
As the Jan. 20 inauguration ceremony of President Donald Trump approached, the entire nation seemed to sit on tenterhooks; after the particularly divisive 2016 election, what would Trump's first day as commander-in-chief look like?
Below is a play-by-play of the Friday ceremony's highlights, as told through the viral #Content of the day.
Barack and Michelle Obama stood outside the White House to receive Donald and Melania Trump — and Michelle got a fun gift
Everyone was having a great time — except for Trump's youngest son, Barron
Kellyanne Conway made a festive sartorial choice
Actually, not everyone was having a great time
Bill Clinton was there, and he was ... on-brand
George W. Bush was also there, and the struggle was real
And Trump addressed the nation for the first time as its president. Tremendous.