'The Payoff' podcast launch: How to get better with money — and plan health care in the Trump era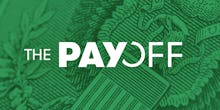 Welcome to The Payoff, a brand-new podcast from Mic!
We're here to help you save money, get wealthy and hack your financial life in this series hosted by Antonia Cereijido and Chris Duffy.
In our first episode we answer the question "What does it actually mean to 'invest'?" with tips from financial planner and LearnVest CEO Alexa von Tobel.
We also explain how the repeal of the Affordable Care Act might affect your bank account.
Going forward, every episode of The Payoff will bring you financial news you can use, industry insights — and simple explanations of how events in the economic or business world impact your wallet.
Subscribe to The Payoff on iTunes, Google Play or wherever you listen to podcasts. Please rate and leave a review, and stay tuned for new episodes every other Wednesday.