The music of the inauguration speaks volumes about the values of Trump's America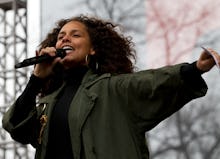 One extremely telling moment offered a window into how Donald Trump's inaugural committee intended to present the face of American entertainment. Like many of the contentious and divisive moments in music history from the past decade, it centered on Kanye West.
When Tom Barrack, chairman of the Presidential Inauguration Committee, was asked if West had been approached for Trump's star-starved inauguration ceremonies, he said no, adding West's music wasn't "traditionally American" enough for the event they wanted to curate. Lest we forget, West's rise is the story of the American dream. He grew up on the South Side of Chicago, worked at the Gap and eventually clawed his way up the ranks from producer to self-made, one-name icon.
In his place we saw how Trump defines "traditionally American." That essentially boils down to safe, gimmicky, white and almost entirely apolitical. His inaugural concerts and performances presented a range of music that seems to perfectly complement Trump's brand of demagoguery, which has little to no tolerance for political dissent and leans on a Cabinet made up of individuals with histories of perpetuating white supremacist ideologies. 
In Trump's America, the inauguration seemed to suggest, entertainment is something necessarily divorced from politics — a sentiment that may very well drive the other half of American pop culture into far more political territory than it's already explored.
For Trump's Make America Great! Celebration Thursday, the lineup was composed of a country supergroup, assembled out of members of other country supergroups, called the Frontmen of Country; a rock group from the bloated CD age, 3 Doors Down; and "A Little Less Talk and a Lot More Action" Toby Keith. Two musicians of color took the stage: Sam Moore, a black soul singer, and DJ Ravidrums, a gimmicky sci-fi drummer and DJ act, only to see their set times dwarfed by one from an 18th-and-19th-century military fife and drum group.
The inaugural balls similarly had lineups built for a Vegas variety show or an America's Got Talent stage. Pelican212, the "world's shortest horn band" and a hit on Steve Harvey's kids' talent show Little Big Shots performed the Liberty Ball. Circus 1903, a group that, in Salon's words, attempts to "capture the magic of circuses at the dawn of the last century" — presumably giving a subtle nod to when Trump feels America was truly great — "with strong men, foot jugglers, contortionists, acrobats, knife throwers" and puppet elephants. An Irish dance group, beloved on Twitter for their leather pants, also earned themselves a stage spot alongside a plethora of other country acts.
Yes, even a semi-homoerotic Irish dance group is more "traditionally American" than the striving music West makes.
Following a year in which so much of the mainstream entertainment world took a slightly more radical bent, the music lined up for Trump's celebrations was notably apolitical.
Unless music makes the most straightforward patriotic statement imaginable, it need not apply for consideration on a Trump-sanctioned stage. Toby Keith's "Courtesy of the Red, White and Blue (The Angry American)" lyrics, which he performed on the steps of the Lincoln Memorial Thursday, were a-OK: "You'll be sorry that you messed with/ The U.S. of A." the lyrics go. "Cause we`ll put a boot in your ass/ It's the American way."
Compare it with Barack Obama's inauguration in 2009, where will.i.am with Herbie Hancock and Sheryl Crow performed "One Love" by Bob Marley, one of the most radical and revolutionary musicians of our time, and Bruce Springsteen played Woody Guthrie's subtle but venomous protest anthem "This Land Is Your Land," alongside Pete Seeger. The value shift starts to take on much more contrast.
Trump's brand of blind patriotism seems to complement the views of much of his conservative base who have been condemning the protests sweeping Washington as being fundamentally un-patriotic. They appear to have forgotten that the American experiment was jumpstarted by a destructive protest act.
Protesters' music in the streets and in the anti-inaugural balls taking place around Washington also speak volumes to the widening culture divide in the U.S. Women's March supporter Beyoncé, the Antichrist to Trump in the eyes of many of his supporters, could be heard widely in various protests. Her music dominated the playlist of the Queer Dance Party Outside Mike Pence's House, a demonstration designed to show "bigotry in our country is not OK," as Firas Nasr, founder and organizer of Werk for Peace's march, explained to Mic.
Punk, hip-hop, indie — all American inventions — filled the anti-inaugural balls and will do so again Saturday. The Women's March will also feature a diverse assortment of artists of color, queer artists, political artists and global artists.
"I feel my role as an artist coming from the African continent is to remind people again and again, through music and advocacy, how beautiful and important our cultural diversity is," Angélique Kidjo — a three-time Grammy award-winning artist, recipient of the Amnesty International Ambassador of Conscience Award and one of the headliners at the Women's March — said in a recent email exchange. "This is what makes our shared humanity so precious."
The sentiments in her words and her music could not make a more striking contrast to the values on display at Trump's inauguration. One music is intersectional, tolerant of difference and challenge; the other is whitewashed and schticky enough to offer a perfect distraction from today's political realities.