Trump Inaugural Ball: The Piano Guys cover "Fight Song," aka Hillary's campaign tune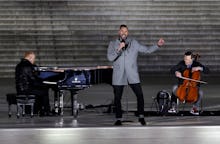 Friday was a long, rough day for Hillary Clinton supporters. At the foot of the capitol building, they got a glimpse of their candidate, dressed in a white pant suit of surrender, and watched Donald Trump take the oath that was nearly her's. Friday night at the inaugural ball, one of the few musical groups Trump managed to secure for his inauguration, the Piano Guys, seemed to add insult to injury — or did they?
The band played a rendition of Hillary Clinton's go-to campaign song, Rachel Platten's "Fight Song." Its earnest melodies are likely so burned in Clinton supporters' brains, it's probably hard to hear it and think of anything else.
Twitter users had to applaud what seemed to be a masterful troll, though many couldn't exactly tell who its target was.
It's easy to interpret it either way: as Clinton's ghost in song form, coming back to haunt Trump (whose election victory is currently under scrutiny by the intelligence community) or as Trump taking all that Clinton once held dear for his own.
Some Twitter users suggested that Platten sue for defamation. 
Platten, herself, did not seem entirely thrilled at hearing her song played in that venue. She responded to the performance on Twitter, asserting that the Piano Guys did not "ask for permission" and she did not "approve or endorse their decision."
Platten might have a case, as George Howard, associate professor of management at Berklee College of Music and co-founder of Music Audience Exchange, explained to Mic in a recent Skype interview. Howard discussed known Trump opponent Bruce Springsteen's options to stop the B-Street Band from playing his music at one of the inaugural galas.
"[Springsteen] could say: 'By you playing my music at your event, it's confusing the public and making them think I'm endorsing you,'" Howard explained. "Those are hard, but occasionally they win."
At this point, the band is the only one who likely knows the meaning of this troll, or whether it was meant to be any such thing. 
Mic has reached out to the Piano Guys for comment and will update if we hear back.
Jan. 20, 2016, 10:12 p.m.: The band has responded to Mic's request for comment saying that the song choice "had nothing to do with Hillary Clinton or politics."
"Our performance, which combines 'Fight Song' and 'Amazing Grace' had nothing to do with Hillary Clinton or politics," the band wrote. "It's perhaps our biggest song and always a crowd pleaser. We perform this song at the end of every one of our shows."
There you have it, just an innocent Scottish-themed piano and cello pop cover for our new POTUS and his guests.