Donald Trump cannot stop talking about the election at his inaugural ball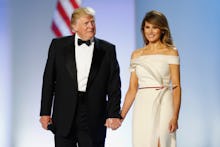 Donald Trump was sworn in as the 45th president of the United States Friday morning.
And yet, hours later at a trio of inaugural balls, Trump could not get out of campaign mode, bragging about his electoral success before launching into a stilted dance with his wife, first lady Melania Trump.
"We started out, we weren't given a great chance but we knew that we were going to win," Trump said at his second inaugural ball appearance of the evening. "And you know, it took two weeks until we went to No. 1, not a long time."
Trump continued on his election related tangent, bragging about how he stayed in the No. 1 slot throughout the primaries. 
"And then those last four weeks, boy did I work, ay yi yi," Trump said. "That was some job, we did a good job together."
Trump attended three inaugural balls Friday night with Melania and his children, Donald Trump Jr., Ivanka Trump, Eric Trump and Tiffany Trump.