People who unfollowed Donald Trump on @POTUS Twitter account are mysteriously following him again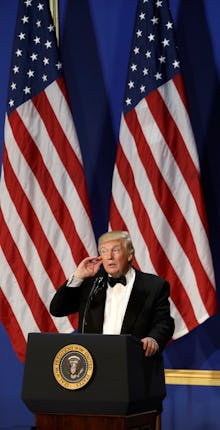 One of the easiest ways for people to avoid Donald Trump was to unfollow him on Twitter. However, many people who say they unfollowed the @POTUS handle yesterday after Barack Obama left the office say they are following him again as of Saturday morning. 
Twitter users used the social platform to express their anger at having to see Trump's face on their timeline. 
One Twitter user shared screenshots on Twitter of the @POTUS handle that were allegedly taken Friday, when the account had 3.8 million followers, and today, when it had 14.2 million. As of press time, the account still has 14.2 million.
Twitter is aware of the problem and trying to remedy it, according to its own support accounts.
On Saturday afternoon, Twitter CEO Jack Dorsey issued a series of tweets addressing users' concerns with being made to follow the @POTUS account. Dorsey chalked the snafu up to a technical error. 
Trump has a long tumultuous history with the social media platfom. In the final days leading up to the November election, his campaign team took away his Twitter privileges. A post-election poll from Novemeber found that 59% of Americans wanted Trump to log off the platform for good.
Jan. 21, 2017, 1:48 p.m.: This article has been updated.