Women's March DC: Official route and start time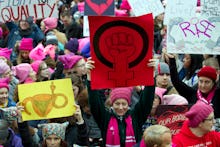 Thousands of marchers are expected to hit the streets of Washington, D.C., on Saturday for the Women's March on Washington, in what may turn out to be one of the largest political protests in recent history. 
Here are the details you need to know if you're planning on participating in the march. All times are Eastern.
Start point
The Women's March will begin with a rally at 10 a.m. near the Capitol, at Independence Avenue and 3rd St. SW. Speakers at the rally will include activists and organizers as well as celebrities like Scarlett Johansson, America Ferrera, Amy Schumer, Frances McDormand and Zendaya.
March route
The official march will start at 2 p.m. and go until sundown, according to organizers. The plan is to march west on Independence Avenue SW, from 3rd St. SW to 14th St. SW. Then the march will turn north on 14th St. SW to Constitution Ave. NW, and march west on Constitution Ave. NW to 17th St. NW, near the Ellipse and Washington Monument.
The march will conclude on the National Mall near the Washington Monument.