Twitter celebrates Women's March on Washington with #WomenWhoHaveInspiredMe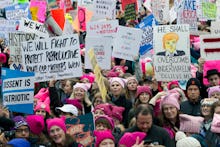 Big-city streets won't be the only places filled with powerful women today. 
As people of all gender in Washington, D.C. and around the world gathered to protest the presidency of Donald J. Trump, people on Twitter flooded each other's timelines with images of powerful women who inspired them with the hashtag #WomenWhoHaveInspiredMe. 
Many people paid tribute to famous politicians, writers, actors and musicians.
Others paid tribute to feminists and activists throughout history. 
Others paid tribute to the women in their own families.  
Others didn't point to any specific woman but groups of women that inspired them.
This isn't the first time people have turned to Twitter to address the misogynistic tone set by the new president. After a tape leaked of Trump condoning nonconsensual groping, women used the social platform to share stories of their sexual assault experiences.