America Ferrera's Women's March address stood in solidarity with young undocumented immigrants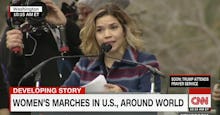 America Ferrera built a bridge instead of a wall on Saturday.
Speaking to attendees of the Women's March in Washington, D.C., actress America Ferrera described it as a "heart-wrenching time" to be a woman and be an immigrant to this country whose values she described as "under attack." Ferrera was born in Los Angeles to Honduran immigrants. 
"A platform of hate and division assumed power yesterday," Ferrera said of Friday's inauguration ceremony. "But the president is not America. His cabinet is not America. Congress is not America. We are America, and we are here to stay." 
Ferrera then went on to say that Trump is waging a war on the "moral core" of the nation. She quoted quoted Emma Lazarus' poem "The New Colossus," which is inscribed on the Statue of Liberty, and said Trump has forgotten the parts about accepting "your tired, your poor, your huddled masses yearning to breathe free." 
Ferrera then made an explicit plea to those at the march to remember those in the U.S. who benefit from former President Obama's executive order Deferred Action for Childhood Arrivals. DACA allowed undocumented immigrants who entered the country as minors to receive work permits and defer deportation. 
"We will not turn our backs on the more than 750,000 young immigrants in this country currently protected by DACA," Ferrera said. "They are hard-working, upstanding, courageous indviduals who refuse to live in the shadow of fear and isolation. They bravely took to the streets to declare themselves and to provide a voice and hope for their community. Today, we march with and for them." 
During his campaign, Trump made a series of promises to his followers regarding U.S. immigration laws, most famously promising to build a border wall/fence between the U.S. and Mexico and saying Mexico will either pay or reimburse the U.S. for it. When it comes to programs like DACA and Deferred Action for Parents of Americans, Trump's proposed immigration plan states that he will "immediately terminate President Obama's two illegal executive amnesties."