Donald Trump just deleted a tweet. Now that he's president, that might not be legal.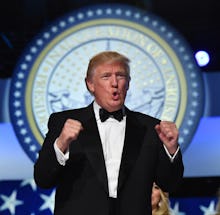 President Donald Trump tweeted on Saturday morning that he was "honered" to serve as 45th president of the United States. Moments later, the tweet was gone — presumably deleted by the president or his team.
Under the 1978 Presidential Records Act, the president must obtain the "views of the Archivist of the United States" before disposing of any records. And his tweets — whether sent from his personal Twitter account or his official @POTUS account — are considered a matter of public record.
Mic has reached out to the the National Archives office and David Ferriero, the archivist of the United States, to determine whether Trump followed the necessary procedures before deleting the tweet. We also attempted to reach out to the White House press office, but were redirected to an automated message. The switchboard operator said by telephone that, if that's the case, there's no one in the office. We will update when we hear back.
Sign up for our newsletter to stay up-to-date on Trump's inauguration and the aftermath.