Which celebrities went to women's marches on Saturday? Here are some famous marchers.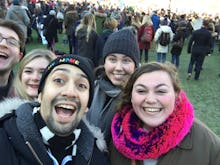 Hundreds of thousands of marchers gathered in Washington, D.C., on Saturday for the Women's March — and they were joined by sister marches across the country and around the world. There was no shortage of famous faces, both leading the crowd and in the thick of the action as ordinary participants. 
Here are some of the celebs who were spotted at women's marches around the world on Saturday.
Hamilton creator Lin-Manuel Miranda was at the Women's March in London.
Janelle Monae spoke to the crowd at the Women's March in D.C.
Jane the Virgin star Gina Rodriguez tweeted a photo of herself at a march on Saturday.
Debra Messing Instagrammed a photo of herself on the ride down to D.C.
Chelsea Handler and Charlize Theron marched at a sister Women's March in Park City, Utah, on Saturday.
Kristen Stewart was also spotted at the Utah march.
Amber Tamblyn shared a photo of herself along with a crew that included Planned Parenthood's Cecile Richards.
Helen Mirren shared a photo of herself at the New York City march.