Janelle Monáe brought out the Mothers of the Movement at the Women's March on Washington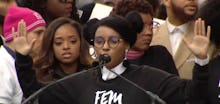 Music superstar and actress Janelle Monáe did not come out alone to speak to those in attendance at the Women's March on Washington. Monáe brought two mothers of those who were killed by police or gun violence  — known as the Mothers of the Movement — out on stage with her. 
On stage, Monáe approached each of the mothers — who also appeared on stage during the Democratic National Convention in July — and asked them to say the name of the child she lost and then asked the crowd to repeat those names. Lucy McBath, mother of Jordan Davis, and Gwen Carr, mother of Eric Garner, led the chant alongside Monáe.
"We're going to say 'Jordan Davis!' so he can feel us, and we're doing this for his mother!" Monáe said to the crowd after Davis' mother said his name. 
Aside from Monáe's advocacy for black lives, she also wore a fierce, feminist message on her shirt, which read "Fem the future." In September, Rap-up reported that Monáe spoke on behalf of the Fem the Future movement at Afropunk Festival in Brooklyn in 2016. 
She said: 
Fem the Future is a grassroots movement led by progressive millennials working together to advance the awareness, inclusion, and opportunities for women and those who identify as women through music, arts, mentorship, and education. We are here and we are ready for our collective voices to be heard.'
Monáe drove home her feminist message with a line from her film Hidden Figures, which is about the glossed-over history of the black female scientists and engineers who helped make NASA's space flight program a success. 
"At the end of the day, we all pee the same color," she told the crowd, quoting the film.