9 aerial photos show just how big women's marches were around the world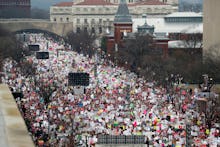 Hundreds of thousands of marchers gathered to make their voices heard at the Women's March in Washington, D.C., on Saturday — but they weren't the only ones marching. 
Sister marches, hundreds more of them, were held in cities around the globe. The below images show just how big marches were across the U.S., and around the world.
In Los Angeles, footage captured from a helicopter showed huge crowds.
In Boston, the crowds filled up the Boston Common, the oldest public park in the country.
A sister march in London reportedly drew a crowd of more than 100,000.
There were over 100,000 participants at the Women's March in Denver, Colorado, too.
The crowd was out in force in Philadelphia.
The Chicago Women's March so greatly exceeded its expected turnout that it had to be changed from an official march to a rally.
Crowds gathered for a Women's March in St. Louis, Missouri.
A march in Seattle drew a crowd of thousands.
And in New York City, the Women's March stretched for blocks.
Final tallies aren't in yet, but current estimates suggest that more than a million marched in the U.S. alone, USA Today reported on Saturday. That's 1 million and counting.
Sign up for our newsletter to stay up-to-date on Trump's inauguration and the aftermath.