Organizers at the Los Angeles Women's March expected 80,000. 750,000 reportedly showed up.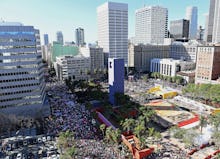 All across the U.S. — and around the globe — participants came out for women's marches on Saturday. In Los Angeles alone, the turnout exceeded organizers' expectations almost 10 times over.
Organizers expected 80,000 people to show up to march in Downtown LA, one NBC LA reporter said in a tweet. But the total was closer to 750,000, according to updates from the organizers.
Local outlet KABC reported that the LA march was one of the largest of the many women's marches held across the U.S. The official "unity principles" of the marches may not mention President Donald Trump by name, but they read as a coded message of opposition to the new administration, explicitly outlining support for LGBTQ rights, immigrant rights, reproductive health care access and criminal justice reform.
"I have to do something," Alice Dryden, a participant at the march, told KABC. "I can't just sit back and just let all of this happen around me, with all of the changes I'm seeing, all the lack of tolerance. So, if all I can do is stand up and physically be here and say 'I don't support this, and I'm going to keep supporting tolerance and rights for every American' then, I'm going to be here."
Celebrities came out for the LA chapter of the march, too — Barbra Streisand, Kerry Washington, Natalie Portman, Ariana Grande, Laverne Cox and Demi Lovato were all reportedly at the march.
The totals at the LA Women's March may have even exceeded the numbers at the main event in Washington, D.C., where an estimated half a million people marched in the streets of the nation's capital.
Sign up for our newsletter to stay up-to-date on Trump's inauguration and the aftermath.