"We're never going home": The Women's March on Washington cements unity after inauguration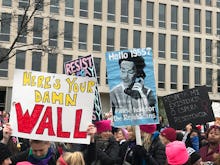 WASHINGTON — After much speculation that differences would sap the Women's March on Washington of its power, hundreds of thousands of people swarmed the streets of the nation's capital Saturday, turning it into a sea of pink cat-eared caps — a reminder to President Donald Trump that pussy can indeed grab back.
Yet the march itself was not explicitly about him. From the start, the co-chairs — Tamika Mallory, Carmen Perez, Linda Sarsour and Bob Bland — were adamant the event was to be neither anti-Trump nor a protest. Instead, they envisioned a massive demonstration of unity, a march of historic proportions. And that is precisely what they got. 
Feminist icon and honorary Women's March co-chair Gloria Steinem in her speech to the crowd said the Constitution "begins with" — and the crowd, unprompted, helped finish the sentence: "We the people."
"So don't try to divide us, do not try to divide us," Steinem continued. "If you force Muslims to register, we will all register as Muslims."
The march was a striking, sprawling display of intersectional feminism, bringing together people of all ages, races, genders, faiths and political beliefs in a city-stopping reminder that women's rights are human rights. 
None of the march officials with whom Mic spoke were able to offer a ballpark figure on the number of people who attended the rally, which began at 10 a.m. on the corner of 3rd Street NW and Independence Avenue. But looking out at the throngs of people filling up the streets all around the rally site, the organizers' initial estimates of 200,000 seemed low. Very low. 
People began arriving hours before the event was set to begin, staking out spots before 7 a.m. Kevin Donahue, Washington, D.C.'s deputy mayor for public safety and justice, tweeted early Saturday morning that 500,000 marchers were expected to attend. That felt closer to the mark. The streets surrounding the rally were packed full, making forward movement difficult to impossible. The crowd began to disperse somewhat around 2 p.m. While it was reported that the march had been called off due to overattendance, it went on largely as planned, albeit with a slight delay. 
Those who stuck around at the rally heard from musician and actress Janelle Monáe, who expressed gratitude both to her mother and grandmother — who worked hard and with their hands — before vowing that "women will be hidden no more." Monáe rallied the crowd to say the name of Sandra Bland, a 28-year-old black woman who died in police custody in 2015 in Texas.
Before the march, we wondered if the legacy of racism rooted in certain aspects of the women's rights movement would divide the day. But the feeling, speaking to those in attendance, was overwhelmingly one of unity, mutual support and an eagerness to help. The question now becomes: What is the most effective way to do that going forward?
"Take a page out of the tea party's book and harass these members of Congress who are likely to take away some of these rights," Julianne Malveaux, economist, author and former president of Bennett College, the historically black women's college in North Carolina, said in an interview on the rally's perimeter. "I want people to go home and I want them to be in their congressmen's faces. I want them to be in their senators' faces. I want them to understand that women vote and that women will vote to uphold our rights."
The women, she said, will keep on marching.
"This is a comma," Malveaux continued. "It's not a period."