When is Trump's first White House Correspondents' Association dinner?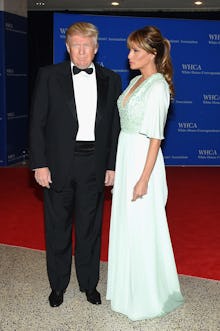 In his 2011 White House Correspondents' Association dinner speech, President Barack Obama went after Donald Trump for his false birther claims. After the release of his long-form birth certificate, Trump, Obama said, could "focus on the issues that matter. Like: Did we fake the moon landing? What really happened in Roswell? And where are Biggie and Tupac?"
"All kidding aside, obviously we all know about your credentials and breadth of experience," Obama continued, as his then-absurd statement was met with laughter and applause.
Six years later, however, Trump has gotten the last laugh. In April, the real estate mogul turned president will deliver a Correspondents' dinner speech of his own.
Hosted by the White House Correspondents' Association, which represents the White House press corps, the annual dinner is an opportunity for journalists, politicians and celebrities to rub shoulders and honor the work of the WHCA's members. The dinner, which has taken place since 1921, is now perhaps best known for its comedy, with such well-known comedians as Larry Wilmore, Seth Meyers and Jay Leno headlining the event in recent years.
The first WHCA dinner of the Trump administration will take place on April 29, according to the WHCA website. While the annual event has typically been seen as a light-hearted affair, it will be interesting to see how the dinner plays out under President Trump, whose campaign — and already his administration — has been marked by its contentious relationship with the very journalists the dinner celebrates.
Trump, famously, has been largely rejected by many of the A-list celebrities who typically make up a large part of the guest list at the annual dinner. It also remains to be seen which comedian will choose to take part in the WHCA dinner and if the speech will actually be good-natured. It could take a more critical approach, as Stephen Colbert did in his 2006 speech during George W. Bush's presidency.
Colbert blazed a trail for contemporary comedians to follow with his sardonic speech, which offered a biting criticism of President Bush's tenuous relationship with the truth — one that feels all too familiar under President Trump.
"Guys like us, we don't pay attention to the polls," Colbert said ironically through his conservative Colbert Report persona. "We know that polls are just a collection of statistics that reflect what people are thinking 'in reality.' And reality has a well-known liberal bias."