President Trump asks why protesters at Women's March didn't vote — they did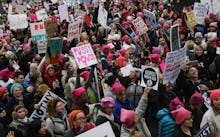 After the historic Women's March in Washington, D.C., and across the country Saturday, President Donald Trump had a question for the millions of protesters: Why didn't you vote?
The only problem with the president's query is that they did vote —which is why Trump lost the popular vote to Hillary Clinton by nearly 3 million votes. Trump won the Electoral College with 306 votes. 
In the days following the election, Trump alleged that "serious voter fraud" was the only reason Clinton won the popular vote — a claim that has never been substantiated.
The crowds from the Women's March on Washington were markedly different from Trump's inauguration the day before. According to the New York Times, the Women's March had three times as many people as Trump's inauguration. 
Trump later followed up on Twitter, saying "Peaceful protests are the hallmark of democracy."