Kellyanne Conway calls Sean Spicer's lies about inauguration size "alternative facts"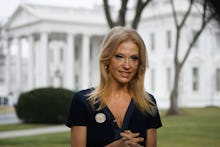 In a Sunday interview with NBC's "Meet the Press," Kellyanne Conway struggled to come up with a reasonable explanation for White House Press Secretary Sean Spicer's blatant lies about the size of President Donald Trump's inauguration crowd — a hot topic following news that his numbers came nowhere near Barack Obama's in 2009. 
Despite experts who estimated Trump's audience at around 200,000 attendees versus Obama's 1.8 million, Spicer criticized the media of using aerial photographs to intentionally mislead readers.
"This was the largest audience to ever witness an inauguration, period," he told reporters at a White House press briefing on Saturday.
Conway tried to let Spicer of the hook on Sunday by calling his lies "alternative facts."
Well, that's a new one.
Conway continued to cast doubt on whether experts could accurately determine crowd numbers at all, and then went on to suggest that NBC's reporting on Spicer's falsehoods could affect the network's access to the Trump administration. 
"There's no way to really quantify crowds," Conway told NBC's Chuck Todd. "If we're going to keep referring to our press secretary in those types of terms, I think we're going to have to rethink our relationship here," Conway said earlier in the interview.
After Conway's interview, Merriam-Webster Dictionary's Twitter account, seeing an opportunity for a quick vocabulary lesson, shared its definition of the word "fact."
Hey, many of us could use a refresher, especially as the president himself continues to spread lies and attempt to delegitimize anyone who calls him out on them.
But for now, a word to the Trump team: A fact by any other name would not smell as sweet. A fact by any other name is a lie.