Oscars 2017 Predictions: Which movies will be nominated for best picture?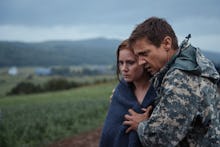 The time has come to put up or shut up. The 2017 Oscar nominations will be announced Tuesday morning; now is the moment to take all we know of box office, backlash and Golden Globes and put together some predictions.
For our final pre-nominations predictions, let's look at the top six categories — picture, director and the four acting races — to guess how things will turn out. Which former presumed lock for a nomination might miss out entirely? How strong are the frontrunners? Let's break it down.
Best picture
Arrival
Potential spoiler: Nocturnal Animals
Bizarrely, the eight titles most likely to get into the best picture race all start with letters from the first half of the alphabet. Even movies that still have a vague chance, like Deadpool and Fences, also rest within those first 13 letters. (Sorry, Zootopia.) The magic letters this year are H, L and M; the seven films that start with those letters feel like the most secure bets.
Arrival has had a strong season, but has felt shakier than its record all season. Luckily, director Denis Villenueve getting a nod from the Directors Guild of America speaks to the film's awards strength. It should get in despite any anxiety on fans of the film's part.
We'll talk more about Nocturnal Animals in best director, but don't be shocked if it qualifies for the big race as a ninth nominee. It could easily rack up a ton of nominations, which is usually a strong indicator as to which movies will qualify for the best picture derby.
Best director
Damien Chazelle, La La Land
Potential spoiler: Garth Davis, Lion
This category has four clear contenders and one amorphous spot that no one seems to be definitively filling. DGA cited Garth Davis, director of Lion; the Globes picked Tom Ford, who crafted Nocturnal Animals.
There's a chance that a wild card like Martin Scorsese could get in, but Silence has underperformed all awards season. It'd be surprising to see him best Davis or Ford at this point. Between the two, Ford has a more distinctive imprint on his movie — such as it is — while Davis' film is more about the story than the technical flourish. Ford's the safe bet, even if his movie doesn't get a best picure nod.
Best actress
Amy Adams, Arrival
Potential spoilers: Natalie Portman, Jackie; Emily Blunt, The Girl on the Train
The best actress field has been a mess all season, with little consensus beyond Emma Stone for La La Land and, for a while, Natalie Portman for Jackie. Unfortunately, the latter saw her stock drop at exactly the wrong moment, losing the Golden Globe to Elle's Isabelle Huppert right in the middle of Oscar voting. Her film has also been underperforming in every other category all season.
The safer bet is that Portman still gets in. But Annette Bening, who looked like a shaky bet after missing a nomination from the Screen Actors Guild, is an academy-beloved actress who sits on their Board of Governors. She has an easier fight here than at SAG. If she gets in, she'll compete with Huppert, Stone, Amy Adams (who should ride Arrival's tide) and Meryl Streep, whose name was all over the news during the week of Oscar voting. Bening and Streep could still miss, allowing a nacent threat like Emily Blunt a chance.
Best actor
Casey Affleck, Manchester by the Sea
Potential spoiler: Ryan Reynolds, Deadpool
Despite the New York Times publishing reminders of Casey Affleck's previous sexual harrassment suits, his path to the Oscars remains virtually unchallenged. He will likely take home a statue at the SAG Awards without trouble, just as he did at the Golden Globes (to Brie Larson's apparent bemusement).
The other men are mostly here for show, and are seemingly locked in, having missed very few chances for a nomination all season. If Deadpool is surprisingly strong, Ryan Reynolds could knock out Andrew Garfield or Viggo Mortensen, but we wouldn't count on it.
Best supporting actress
Viola Davis, Fences
Potential spoiler: Janelle Monáe, Hidden Figures
Another seemingly very settled category, best supporting actress' best chance for disruption is Janelle Monáe getting in for Hidden Figures over Naomie Harris or co-star Octavia Spencer. But this is almost certainly our five.
It's wild to consider that, five years after she lost the Oscar to Meryl Streep, it's finally going to happen for Viola Davis. She gives the performance of the year in Fences, and it's great to see her be the frontrunner for stellar work versus winning just because it's her time (a la Kate Winslet winning for The Reader). She'll be a Grammy away from an EGOT, too. Get thee to an audiobook recording session, Viola!
Best supporting actor
Mahershala Ali, Moonlight
Potential spoiler: Lucas Hedges, Manchester by the Sea
The one and only question here is whether Lucas Hedges or Aaron Taylor-Johnson gets the nomination, and Taylor-Johnson won the Globe during voting. He's got the edge.
Taylor-Johnson, of course, beat Mahershala Ali for that award in something of a shock. Ali has felt like a lock all season, and that loss could be cause to feel nervous. But if he can pick up the award at SAG, he'll assuage any fears — and it'd be a stunner to not see him nominated. He's in.