#MuteMonday movement asks people to unfollow Donald Trump on Twitter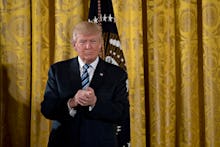 Democratic opponents to President Donald Trump kicked off the week by launching the #MuteMonday movement, asking those who do not support the president to unfollow him on Twitter and instead follow a progressive leader or organization.
Trump has made Twitter his 21st century version of a "bully pulpit," using the social media platform to drive the media narrative and push political leaders toward supporting his agenda. The #MuteMonday movement seeks to lower the impact of his bully pulpit by stripping him of followers and lessen the reach of his account.
"It's #MuteMonday and on this day, we're going to hit Donald Trump where it hurts him most: his ego," Tom Perez, former secretary of labor and current candidate to lead the Democratic National Committee, tweeted. "Unfollow @realDonaldTrump and @potus." 
The campaign was launched by many of the same leaders who helped organize the Women's March, which became a global event that saw millions of people take to the streets to protest Trump.
So far, it's unclear whether the movement has made a dent in his follow count. As of press time, the @realDonaldTrump account had 21.6 million followers while the @potus account — which became Trump's official account on Inauguration Day — had 14.3 million followers.
But the effort is catching steam, with famous names such as Debra Messing, Jamie Lee Curtis and Padma Lakshmi tweeting about the #MuteMonday campaign to their hundreds of thousands of followers. 
"Start your week off right," Planned Parenthood president Cecile Richards tweeted. "Follow someone who's working to make the world a better place."