Cake plagiarism: Trump's inaugural cake allegedly commissioned to look just like Obama's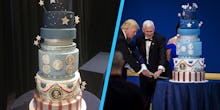 President Donald Trump can have his cake and eat it too, but it won't necessarily be so original. 
Late on Friday night, celebrated baker and "Ace of Cakes" Food Network star Duff Goldman posted a tweet alleging that the Trump inauguration cake was a copy of the cake he made for President Barack Obama four years ago. 
On Saturday morning, Tiffany MacIsaac, owner of Washington's Buttercream Bakeshop told the Washington Post that one of her clients came in and asked her team to recreate the Obama cake. 
"They came to us a couple of weeks ago, which is pretty last minute, and said 'We have a photo that we would like to replicate,'" MacIsaac told the Washington Post. Even though the Buttercream Bakeshop team encouraged the client to use the photo as inspiration, Maclsaac said the client insisted on the exact design of the Obama cake. 
While MacIsaac told the Washington Post that she would never turn away a customer based on age, sex, sexual orientation or politics, she intends on donating proceeds from the cake to the Human Rights Campaign, a nonprofit that advocates for equal treatment of the LGBT community. 
She said she never imagined the cake would wind up broadcast on TV, since it's mostly composed of Styrofoam, save for the very bottom portion. 
Despite the imitation, there don't seem to be any sour feelings between bakers Goldman and MacIsaac. According to tweets, it appears that the bakers have been in touch and there's no bad blood. 
It seems Goldman is taking a lighthearted approach to the ordeal, too. He sent one final tweet on the matter that recognized that building on different ideas is part of the creative process. 
Here's to hoping Trump's team decides to follow in Obama's footsteps in more ways than just cake.