'The Young Pope' Episode 3 Confessional: Did the pope really say he's more handsome than Jesus?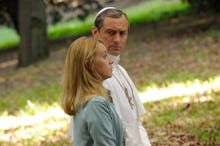 The third episode of The Young Pope has some fortuitous, if not unsettling synchronization with the real world. Much has been written about the titular pontiff's similarities to President Donald Trump — though creator Paolo Sorrentino insists it was mere happenstance — but nothing's been as on the nose as Sister Mary's press conference. 
The press conference to the media in episode three was necessary, after Pius XIII's first address to the public was met with, mostly, shock, as the new pope unveiled his radical conservative views en masse. Plus, there was that little issue where the pope stormed away after a kid flashed a laser at his body (such impudence!). But Pius XIII won't meet with the media himself; Sister Mary is acting as his defacto press secretary. And like our Dippin' Dots-hating White House press secretary Sean Spicer, she's just there to lambast the media. Our personal favorite: Pius XIII says he will not interview with the media because "the only interviews we give ... are to God." What a blessed show this is. 
The third episode of The Young Pope offered other key revelations about Pius XIII's enormous ego and his potential sexual history. Plus, a glorius opening title sequence descended from the heavens. 
OK, so did this young pope actually fuck, once upon a time? 
If we were to create a Young Pope bingo scorecard at home, we'd be remiss not to include "Young Pope fuck" as one of the options. Let's face it: This is a show airing on the Holy Father of TV orgies, HBO; the basic premise is absolutely absurd; and this pope is played by Jude Law. Fun fact: There was an assistant to Pope Benedict XVI, Father Georg Gänswein, that may very well be more handsome than Pius XIII (for now, we can call him Father Daddy). 
However, if this pope isn't going to have sex on the show, we'll settle for Pius XIII's confession that he once had a fling. As he explains to his confidant, Monsignor Gutierrez, one week before entering seminary school, Pius ventured off to California and, in his own words, spent it with a "homely girl" on the beach. We'll forgive the Monsignor for not explicitly asking, "Can I cross this off of my bingo card, Holy Father?" but this is the closest we'll probably get to a confirmation. 
He may have still been Lenny Belardo — the orphan kid from America who hadn't yet become a priest — but it's still something.
Who wore it better: the young pope or Jesus? 
The cat-and-mouse shade-off between Pius XIII and Cardinal Voiello reaches new levels when the cardinal informs the pope that he'll have to perform some baptisms. As if the young pope could get any more unpleasant, now we learn he hates the thought of baptizing babies. The exchange eventually leads to Voiello's best line of the show thus far. 
"Holy Father, you are as handsome as Jesus, but you are not actually Jesus." Damn, Pius — you going to need some holy water for that burn? 
Apparently not, as Pius XIII says that he thinks he's more handsome than Jesus. At first glance, this could be seen as an absurdly arrogant statement, but maybe the young pope is just brushing up on his biblical history. As the Prophet Isaiah writes of Jesus: "He hath no form or comeliness; and when we shall see him, there is no beauty that we should desire him."
Is it sinful to imagine Jude Law is more handsome than Jesus? Probably about as sinful as The Young Pope series, so you're good.  
Enter The Young Pope opening credits in all its glory 
If there are any critics that are unsure if The Young Pope is poking fun at itself, look no further than the opening title sequence revealed in episode three (it's used in the following two episodes, so we assume it'll be around in future installments). Not to be dramatic, but it's the greatest thing ever made. 
It features Pius XIII walking across a hallway filled with famous Renaissance art, all the while a shooting star zips its way through the paintings. This happens to the tune of an "All Along the Watchtower" instrumental. Then, Jude Law faces the camera, winks, and a wax figure of Pope John Paul II — who was an old pope, mind you — is destroyed by a fiery meteorite. 
If that's not enough to convince you to watch The Young Pope, there's nothing else we can do for you, sinner.