Ariana Grande pens powerful note after participating in Women's March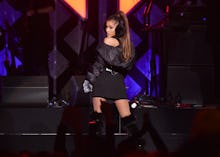 On Saturday, Ariana Grande and countless other celebrities attended Women's Marches happening across the country. Like most of the celebrities involved in the historic moment, Grande was moved by people of all genders coming together. 
Grande posted on Instagram Saturday to share her thoughts on what being involved in the Women's March meant to her. "Today filled my heart with so much hope!! Got to meet many beautiful, passionate people and march alongside my loved ones. The sun came out for us," the singer wrote in her Instagram note.  
Grande attended the Women's March in Los Angeles with her grandmother, as well as other family members and friends. For the "Side To Side" singer, the movement inspired her. 
"We are so much stronger and louder than hatred, ignorance, sexism, racism, ageism, homophobia, transphobia, body shaming, slut shaming, prejudice, discrimination of all kinds, patriarchal conditioning and the backwards expectations of what a woman should be!" Grande wrote.
She ended her note with a final sentiment: "Let's keep our voices loud, passionate & peaceful! Let's continue being strong for each other and to build each other up! Let us stay connected to our divinity."