Donald Trump's executive orders: Here's what the president has signed so far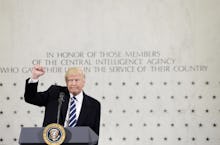 Monday, President Donald Trump is expected to sign an executive order that would withdraw the United States from the Trans-Pacific Partnership, a trade deal among 11 Pacific Rim countries. Instead, he will be negotiating individual trade agreements with member countries in the Partnership, CNBC reported. 
This is the first of several executive orders President Trump has signed since he took office on Jan. 20. Here's a list of Trump's actions so far: 
— Issued an executive order to roll back parts of the Affordable Care Act, paving the way to dismantle the health care law, according to the New York Times.
— Blocked a policy that helped reduce the cost of Federal Housing Administration-backed mortgages for millions of homeowners. 
— Requested departments and agencies to freeze new or pending regulations. 
— Signed cabinet nominations, including those of Scott Pruitt to run the Environmental Protection Agency, John Kelly as the secretary of homeland security and retired Gen. James Mattis who was sworn in as secretary of defense. 
— According to Press Secretary Sean Spicer, Trump proclaimed a National Day of Patriotism. However, it is not clear when that day would occur, CNBC reports. 
Additional executive orders are expected throughout Trump's first week as president, BBC News reports.