Azealia Banks slammed the Women's March and its "white feminist tricks" in Instagram rant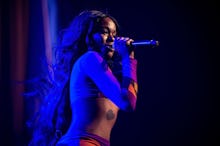 If Instagram is any indication, Azealia Banks has been boning up on her feminist theory. 
In a since-deleted Instagram post written on Sunday, rapper Azealia Banks slammed the Women's March on Washington and its "white feminist tricks." Though Banks deleted the post, Instagram account The Shade Room captured a screenshot and posted it. 
"Now that some white dude has taken office who simply said something silly about grabbing a pussy, they want to march in the streets under the guise of 'standing up for human freedoms,'" Banks wrote. "But where the fuck were they when black folk were getting shot down every day last year?" 
In the caption accompanying the post, Banks told her followers to "be careful with mainstream feminism" and that the support it demands "is not the same support it gives back." 
Racial politics were at the forefront of much of the coverage of the Women's March on Washington. Some people accused women of color of being too divisive. But the Women's March did include several poignant moments about race, most notably when singer Janelle Monáe addressed police brutality. Monáe asked the Mothers of the Movement to join her on stage and had attendees say the names of those who had been lost to police and race-based violence. 
Banks' deleted post was only one of a series of posts that addressed the election and white feminism. The other posts remain on her Instagram.
"I just feel like the entire country is having one big anxiety attack and I just would like to chill," she said in one post. "The election was enough stress."  
Banks then made two posts about "mainstream" white feminism. 
"Feminism only cares about and fights for white women," the rapper said in a subsequent post. "Feminism is basically white women protecting each other and keeping all other women out." 
Banks said it was "dangerous" to involve yourself in white feminism. 
In her final post on the topic, Banks took issue with the "feminist conversation," which she feels centers too much on men. 
"The conversation needs to be an intra-feminine one," Banks said. "How do women feel in relation to each other aka womanism." 
Despite being a fan of womanism, a term for a feminist movement that centers black women, Banks is also a huge fan of Donald Trump, who received only 4% of black women's votes in the November election. Prior to Trump's inauguration, Banks said she "would love" to perform at the low-energy, star-lacking event.