Drake joins Rae Sremmurd on stage in Amsterdam before kicking off 2017 European tour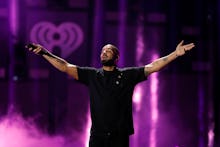 Rae Sremmurd brought out a very special guest for their show in Amsterdam on Sunday. Fans were surprised to see Drake join the "Black Beatles" singers on stage.
Rae Sremmurd is in the midst on their SremmLife 2 tour and decided to make it extra lit for their Amsterdam audience. In an official video posted to Rae Sremmurd's Instagram account, you can hear Drake say he just had to attend a Sremm show before performing "Jumpman."
"I came here to join this Sremm party because I heard there's no party like a SremmLife party." 
The rapper made a surprise appearance at the duo's concert and the crowd got extra wild during his performances of "Fake Love" and "Jumpman."
Drake returned the love by sharing a photo of him and the rap duo on stage from the concert, with the caption "Life of Sremm." 
Drake was able to stop by as he kicks off his Boy Meets World Tour in Amsterdam with three shows, starting on Thursday, Jan. 26: 
Rae Sremmurd had a massive hit in 2016 with their song "Black Beatles," which soared to No. 1 on the Billboard Hot 100, making it their biggest hit so far.