'Overwatch' Year of the Rooster Skins: Chinese New Year event trailer leaks online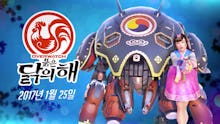 Overwatch's newest seasonal event — Year of the Rooster — doesn't start until Tuesday, but it looks like a portion of the full-length trailer for the Chinese New Year event may have leaked out ahead of time on the Chinese social media site Weibo.
Overwatch Year of the Rooster Skins: New Chinese New Year outfits for Mercy, Symmetra
The full video, uploaded to Reddit by tf2manu994 is only about 15 seconds long, reproduced in GIF form below.
The clip appears to be a short bit of the full-length trailers that Blizzard typically releases on the day of an event's start date, so it should only be about 24 hours before we know whether it's the real thing or not.
The leaked video seems to show new skins and highlight intros for Mercy and Symmetra. It's also possible that Tracer has a new skin, though it's hard to determine due to the quality of the video.
Notably, the clip also appears to show the same four Journey to the West-themed skins for Zenyatta, Reinhardt, Roadhog and Winston that seemingly leaked on Reddit recently, lending some credence to both leaks.
The portion of the video with Tracer shows her standing beneath a large flag, which could possibly be from an event-specific capture-the-flag-style game mode.
The Year of the Rooster event will begin on Jan. 24.
More Overwatch news, updates, tips and tricks
For more on Overwatch, check out the rest of what Mic has to offer. Here is a full explanation of the different types of health in Overwatch, the latest rumor of a Terry Crews-voiced Overwatch character, an update on that Mei ice wall exploit, a hilarious video of a play of the game involving the jump pad on Oasis, a roundup of the best Overwatch plays of the week, our definitive ranking of every Overwatch hero and a giant Overwatch FAQ for beginners.