Ed Roberts featured as Google Doodle: Here's what to know about the disabilities activist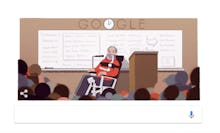 On Monday, Google paid homage to the 78th birthday of Ed Roberts, a pioneer for disability rights and activism, with a Google Doodle.
Roberts, who died in 1995, led the early disability rights movement in the United States, according to the Google Doodles blog post. Born on Jan. 23, 1939, Roberts was diagnosed with polio when he was 14 years old. Since Roberts had to rely on an iron lung, or a full-body ventilator, for his condition, he wasn't able to attend high school in person and studied via telephone until his senior year. 
One of the earliest acts of disability discrimination Roberts faced was when he was about to graduate high school. Since his disability prevented him from participating in gym or obtaining a driver's license, his high school initially did not grant him his high school diploma. It wasn't until Roberts' mother started a petition against the school board that Roberts was granted his diploma.
Roberts made history in more ways than one
After graduating high school, Roberts went on to become the first student with a severe disability to attend the University of California at Berkeley. At Berkeley, Roberts launched the Physically Disabled Students Program with other college students with disabilities. This was the first college inclusivity program designed for students with disabilities.
Roberts, who earned his bachelor's and master's degrees in political science, then led the Berkeley Center for Independent Living to assist the college's disabled students and faculty. According to Google, California Gov. Jerry Brown then appointed Roberts as director of the California Department of Vocational Rehabilitation and in 1983, he co-founded the World Institute on Disability with other disabled rights activists Judith Heumann and Joan Leon.
"I watched Ed as he grew from a sports-loving kid, through bleak days of hopelessness, into self-acceptance of his physical limitations as he learned what was possible for him to accomplish," Zona, Roberts' mother, said, according to Google. "His years at UCB were great ones as he both enjoyed his college status and got in touch with his leadership qualities. He took great pleasure in watching people with disabilities achieve greater acceptance."
 Here are some early versions of the doodle, courtesy of Google: