What you will miss by focusing on the size of Donald Trump's inauguration crowd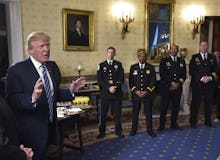 Donald Trump's Day Four (One) Agenda
After taking his first weekend as president off, sort of, Trump will set to work Monday on "making America great again." He started the day off by pressuring a bunch of American companies, including Ford, Dell, Lockheed Martin, Alcoa, Whirlpool, Dow Chemical, Johnson & Johnson and Under Armour, to make their products in the U.S. — or face a tax penalty. (Politico) Trump will reportedly move to renegotiate the North American Free Trade Agreement. (Here's what that could mean for you.) And he plans to withdraw from another trade deal, the controversial Trans-Pacific Partnership. (Here's what that that could mean for you, and why this could cause the cost of electronics to double.) This week will focus on immigration and trade, with executive orders expected anytime on both issues. Trump may also institute a hiring freeze in the executive branch, ban transition and administration officials from lobbying for five years and order up a plan to "eradicate" ISIS.
What to watch for: Given the desire by Trump and Republicans to move quickly on several policy fronts, this week will feature tons of news about changes to the federal government. Trump likes to make a splash. But some of his initial moves as president have been vague, like his Friday executive order on the Affordable Care Act that injected "uncertainty" into health insurance markets. This week, watch to see how much detail Trump offers in his initial executive moves.
What you missed: What has Trump already done? CNN has the latest list. Recent updates include conversations with the leaders of Canada and Mexico, scheduling a Friday visit with the prime minister of the United Kingdom and delaying a federal lawsuit against Texas that argued a voter ID law there was unconstitutional.
Coming Cabinet confirmations: Trump's nominees to run Defense and Homeland Security have already been confirmed. Kansas Rep. Mike Pompeo will likely be confirmed Monday as head of the CIA. And on Tuesday, Elaine Chao and Wilbur Ross, Trump's respective nominees to run Transportation and Commerce, are expected to be confirmed.  
This is Mic's daily read on Donald Trump's America — and how it affects you. Want to receive this as a daily email in your inbox? Subscribe here.
A timeline of untruths
Trump's first days remain embroiled in controversy after an aggressive press conference, possibly the largest day of protest in U.S. history and some eyebrow-raising Sunday morning comments from a top Trump aide. 
The controversy began with widespread media reports that Trump's inauguration was not as large as Barack Obama's first inauguration. Comparisons continued on Saturday with the Women's March on Washington. (Photos from all three events supported these reports.) In front of a wall at the CIA honoring Americans who died in the line of service, Trump claimed he drew "a million, million and a half people" to the National Mall. Press Secretary Sean Spicer appeared Saturday evening to blast journalists for saying Trump's crowds were smaller than Obama's.
Trump's inauguration drew unquestionably fewer people than Obama's first inauguration or the Women's March. The first African-American president attracted 1.8 million people to Washington in 2009. Trump likely drew fewer than 500,000. (Crowd scientists told the New York Times it was as few as 160,000 — a third of the size of the Women's March.)
At one point, Spicer cited statistics from Washington's transit system to justify believing Trump's crowd was larger than Obama's. But by 11 a.m. on Inauguration Day, fewer people had used the D.C. subway system than at the same time during the three previous inaugurations. Spicer also said this "was the largest audience to ever witness an inauguration" — despite the fact TV ratings were lower for Trump than Obama in 2009.
Spicer also blasted a specific reporter for tweeting that a bust of Martin Luther King Jr. had been removed from the Oval Office. That was not true, and was quickly corrected by the reporter. The head of the Committee to Protect Journalists said this pointed attack was "deeply chilling."
On Sunday morning, Trump counselor Kellyanne Conway offered the answer to these inconsistencies: Spicer was offering "alternative facts." Journalists pounced, widely equating "alternative facts" to outright falsehoods.
News and insight you cannot miss: 
•  A major story this week: U.S. intelligence agencies have scrutinized communications between Michael Flynn, a former general and Trump's national security adviser, and top officials in the Russian government. (Wall Street Journal)
•  A liberal watchdog group plans to sue Trump for allowing his businesses to accept money from foreign governments, a potential violation of the Constitution. (Mic)
•  Part of Trump's Obamacare replacement will call for Medicaid to turn into a block grant to the states, Kellyanne Conway said Sunday. That means states would receive a set amount of funds to divvy up among their Medicaid-eligible population — a departure from the program guaranteeing coverage for those who need it. (New York Times)
•  Hi, Vlad! Trump and Russian President Vladimir Putin will speak on the phone soon. (Politico)
•  Bookies are betting Trump will not finish his first term. (Mother Jones)
•  Think you'll get to see Trump's tax returns? Not a chance. (Mic)
•  What is #MuteMonday? A push to unfollow Trump on Twitter. (Mic)
•  Making good on his pre-inauguration promise, Trump has reportedly resigned from his businesses. Details remain scant, but the move is intended to separate the president from any conflicts of interest.
A view from Trump country: Is a fight with the media what Trump wanted?
The question almost feels rhetorical at this point, but consider a tweetstorm from historian Varad Mehta. As Women's Marches picked up steam all over the world, many media outlets (including Mic) pumped out articles referring to marchers as the "resistance." Mehta took issue with that language: "Why does everyone hate media? Compare 'conservative obstruction' narrative to 'progressive resistance' and there's your answer." 
Trump has proven himself a master of manipulating the media to energize his base. Was a fight over how many people attended his inauguration something Trump wanted?
What do you think of Mehta's comments? Do you think a fight about protests and crowd size is what Trump wanted? Email us with your comments.
The not-so-loyal opposition: How Women's March energy will be harnessed
Saturday marked likely the largest protest in American history. Between 3.5 million and 4 million people marched across the United States to call attention to rights for women and opposition to Trump. The main question going forward: Can that turnout be converted into votes in two and four years? 
Organizers of the Women's March told the New York Times opposition to Trump is so uniform among millions of Americans that their movement will feed off that energy for years to come. They have announced 10 actions Americans can take in Trump's first 100 days to follow up on the march. Planned Parenthood held a training to help marchers organize back in their hometowns. Organizations have put out guides to resisting Trump, as chronicled by Mic. Speakers encouraged people to run for public office, volunteer for campaigns and stay involved between now and 2020. And the impact of connections formed by millions of like-minded marchers cannot yet be quantified.
One potential roadblock: The Democratic Party has yet to emerge from its soul-searching. According to the Times' Maggie Haberman, most of the contenders to lead the party were at a donor retreat during the marches. And Sen. Cory Booker, who spoke at the Washington march, recently said he will not run for president — though he also has maintained a close relationship with some of the party's top donors. The Democrats have a role to play in constructively channeling the power of grassroots opposition to Trump — but they're not there yet.
Will the Democrats lead the grassroots opposition to Trump? Or will the Women's March and other movements grow independent of the opposition party? Email us your thoughts.
The latest from the @POTUS Twitter account. Yes, there are now two Trump Twitter accounts to follow — with a combined 35.9 million followers: