How can you tell if a financial adviser or expert is "real"?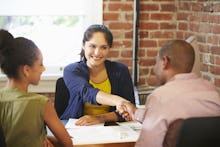 Need help with your taxes? Have you been thinking about stepping up your investment game? Maybe you've successfully negotiated a raise — or perhaps your efforts to save money are finally starting to pay off.
Whatever the case, you get a gold star if you've managed to rustle up some extra cash to save or if you're getting a head start on tax season.
But now that you're thinking about growing your money, you might want to join forces with a financial adviser or money expert — a human being who can help you do the whole "investing" or "money management" thing.
Of course, while there are many benefits to hiring a pro, you should know that all financial advisers aren't created equal.
So, before you sit down with a money professional and say "You're hired"?
Here are a few questions to help you determine whether a financial adviser is legit, trustworthy and the real deal — or just another wolf on Wall Street.
What is a financial adviser?
Ah, the million-dollar question!
Simply put, a financial adviser is a professional who gives money advice in exchange for compensation.
In addition to helping you with investing for the future — think stocks, bonds, mutual funds and ETFs — financial advisers are also known to help in the areas of estate planning, insurance, and even taxes. 
Financial advisers who provide investment advice for monetary compensation can also be considered "investment advisers" and are usually required to register with the Securities and Exchange Commission or a state securities regulator.
Required licenses vary depending on the exact services provided, but common licenses include the Series 6, Series 7 and Series 66, as the Houston Chronicle explains.
Not every financial adviser, however, who sets up shop with promises of increasing your wealth does so with the proper licenses or credentials.
That's why it's important to always always always check that a professional and/or company is legit and has an unblemished record — using the SEC's Investment Adviser Public Disclosure website or the Financial Industry Regulatory Authority's BrokerCheck.
When in doubt, check them out.
Robert Wilson, CNN contributor and financial adviser at a private investment advisory firm in Pittsburgh, said there are warning signs potential investors should look out for when hiring a financial professional. 
"Many so-called 'financial advisers' do not have formal education in finance," Wilson told Mic. "Many of them were salespeople in other industries and are trying their luck in the financial industry. They are primarily there to sell you a product, not to provide you with solid advice."
In addition to asking for credentials, Robert recommends consumers ask about references along with fees and compensation.
"It's important to know if your potential adviser receives commission on the sales of products, including incentives from fund companies, etc. to sell certain products, or if they just get paid to provide advice," Wilson said. "Many times there are 'hidden' fees that may not show up explicitly on your statement, but you are paying nonetheless." 
Feeling nervous? Consider sticking with a professional with a clearer designation — like a Certified Financial Planner.
What is a Certified Financial Planner?
If the investment world were a social media platform, the profiles of certified financial planners would boast the blue "verified" badge.
CFPs undergo sizable training and face a long list of requirements to don the designation from the Certified Financial Planner Board of Standards, Inc.
As an investment adviser, certified financial planners have a fiduciary responsibility to tell the truth, the whole truth, and nothing but the truth when it comes to your financial future.
Hopefully, in a nice way.
CFPs can be a true lifeline as they provide strategies for achieving your financial goals, like saving for your child's college, buying a home or planning for your retirement.
If you're interested in using a CFP, find one in your area using the CFP Board's website.
What is a Certified Public Accountant?
Like a certified financial planner, a certified public accountant must meet a series of requirements before sitting for the American Institute of Certified Public Accountants' CPA exam. They must also adhere to a strict code of ethics.
In addition to helping you navigate taxes, CPAs are also great resources for individuals and small businesses when it comes to accounting, bookkeeping, and auditing.
To find a CPA, visit the AICPA's website.
While CPAs can potentially benefit small businesses or freelancers, some millennials may decide they don't need a CPA and instead look to user-friendly software or apps to help them file their tax returns.
Companies like H&R Block, TurboTax and TaxAct offer free online tax software for qualifying users to make giving Uncle Sam his due as simple as clicking a few buttons.
The IRS also has free filing software and tax-preparation tools.
What is the "fiduciary rule"?
If you've read anything about investing, there's a good chance you've heard of the fiduciary rule — a standard of accountability that helps protect investors from exorbitant and undisclosed fees as well as advisers' potential conflicts of interest.
Confused yet?
Basically, beginning April 10, 2017, the Department of Labor will require "all financial professionals who work with retirement plans or provide retirement planning advice" to "act in the best interests of their clients and to put their clients' interests above their own," according to Investopedia. The change also mandates the clear disclosure of all fees and commissions to clients.
"[Under the rule], the adviser can't receive more than reasonable compensation," Fred Reish, a partner at Drinker Biddle & Reath, explained to CNBC.
The DOL may phase into practice the new rule, which holds financial advisers to a higher level of accountability than the previous "suitability" standard.
Now, there's a chance the rule might be delayed by President Donald Trump's administration, but assuming the rule goes into effect as scheduled, it could have a big impact on the business practices of financial advisers and companies — especially those who operate on commission instead of fees.
Commission-based advisers — or financial advisers who get paid for the particular financial products they sell or number of accounts they open — will be required to provide clients with a "Best Interests Contract Exemption" that spells out the compensation an adviser will receive and potential situations that could cause conflicts of interest (e.g., a bonus for selling a specific financial product).
In other words, whether or not the fiduciary rule goes into effect, you might want to stick with a fee-only adviser instead of a commission-based one.
Some believe fee-only advisers tend to be less risky, have fewer conflicts of interest and are more beneficial to clients. Investopedia notes, "Because of the way they are compensated, fee-only advisers can be expected to practice a greater degree of objectivity." 
"Advisers that are paid on commission may have an incentive to sell you either unnecessary products or funds that are not necessarily the best fit for an investor, but may compensate the adviser better," said Ryan Bayonnet, a CFP at Storey & Associates in Ohio.
Merrill Lynch is discontinuing their commission-based IRAs in light of the DOL's ruling, while Morgan Stanley and Wells Fargo plan to keep offering commission-based accounts in addition to fee-only options.
Regardless of your choice, it's important to stay in the know so you can protect your money.
Now that you know what a financial adviser is and how they operate, you might want to compile a list of questions to ask potential advisers so you can determine the best candidate for you.
Correction: Jan. 25, 2017
Sign up for The Payoff — your weekly crash course on how to live your best financial life.