Who is Rachelle Chapman? 4 things to know before TLC's 'Rattled' special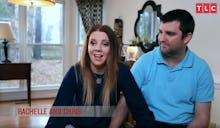 Rachelle Chapman, who became known as "The Paralyzed Bride" after a tragic accident, really wanted to be a mother and was willing to do whatever it took. The story of her journey to motherhood was chronicled by TLC and will air at 10 p.m. Eastern on Monday.
An unexpected injury 
Rattled: A Paralyzed Mother's Story follows Chapman, who became paralyzed after an accident at her bachelorette party in 2010. A friend playfully pushed her into a pool, and her neck broke as she hit the water, leaving her paralyzed from the chest down. She suffered a C6 spinal cord injury and was unable to walk or feel sensations below her collarbone.
Hospitals, rehab and medical bills 
After a stay in the ICU, Chapman spent almost three months in the hospital before beginning rehab. 
She chronicled her experiences on her website and later penned the memoir The Promise: A Tragic Accident, a Paralyzed Bride and the Power of Love, Loyalty and Friendship, which was published in 2014. 
The end of a friendship
Chapman never revealed the name of the woman who pushed her into the pool, telling ABC News at the time that she was still her best friend. But the closeness faded over the years, and the two are no longer in contact. 
"I had to actually cut ties with her and end the friendship," Chapman told PEOPLE magazine. "I had to tell her that we couldn't be friends because she just wasn't there for me anymore. In the beginning, she was there for me and I was there for her. She was distraught and depressed about what happened. But as the years passed, she didn't make the effort, it was just going through the motions and every time we spoke, I just felt like I was remembering the accident and going into the pool and I had negative feelings. I didn't feel that way in the beginning, but that's what's been happening over the last three years."
Her path to pregnancy
Chapman and her then-fiancé, Chris, delayed their marriage following the accident due to complications regarding health insurance and Medicaid. They finally wed in 2011 and still dreamed of having children; however, Chapman's prescribed medications would make pregnancy dangerous for a fetus. So, when Laurel Humes, a friend of Chapman's from college, read a post on Chapman's blog about looking for a surrogate, she contacted the couple immediately. 
"My husband was a sperm donor for some of our friends, a same-sex couple, and that inspired me to think about surrogacy," Humes told PEOPLE magazine.
Rattled follows the couple at their North Carolina home, including Chapman's baby shower and the birth of their daughter, Kaylee, in April 2015. 
"I really want people to see what a quadriplegic is capable of. I think the world has very little knowledge about spinal cord injuries and I'm looking to change that," Rachelle told PEOPLE magazine. "We have so much more to offer than people might think. I have seen people commenting in articles calling me selfish for wanting to be a mother. But people will see in the show that our system works and that my daughter is going to have the most beautiful fulfilling life."