Is 'House Hunters' fake? 4 things you may not have known about the HGTV series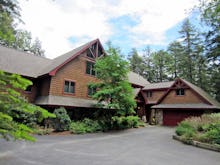 HGTV's House Hunters takes viewers on the emotional roller coaster of finding and buying a new home. The reality TV show's predictable formula — one anxious couple, three houses and one peppy real estate agent — has had viewers hooked since its debut in 1999. What some fans don't realize is that the series is rumored to be scripted.
"House Hunters represents everything that people love about HGTV, all wrapped up in one show, which is buying and loving homes," Kathleen Finch, the network's president, told Ad Week in 2015.
Here are four facts you may not have known about House Hunters:
1. It's all staged
Of course, like much of reality TV, House Hunters is a fantasy. In fact, according to a 2012 Entertainment Weekly article, the show is mostly fake. The blogosphere blew up that year after The A.V. Club tipped off the public and a former House Hunters participant shared her story with the blog Hooked on Houses. 
Bobi Jensen, who appeared on a special "Texas Week" episode, claimed that the show producers changed the story about why she and her husband were moving. Apparently, the couple had even selected their new home before appearing on the show; the other two houses featured on the show weren't even for sale. The houses belonged to their friends.
In a statement to EW, HGTV confirmed that its producers generally pick couples who have done most of their home shopping already.
"We've learned that the pursuit of the perfect home involves big decisions that usually take place over a prolonged period of time — more time than we can capture in 30 minutes of television," read the statement. "However, with a series like House Hunters, HGTV viewers enjoy the vicarious and entertaining experience of choosing a home. ... To maximize production time, we seek out families who are pretty far along in the process." 
2. Even with staging, the show is very popular
Even if House Hunters skewers our vision of what's achievable, Americans watch it — lots of it. In 2016, the Washington Post reported that there were over 440 episodes of the series released the previous year. The series has also spawned 13 spinoffs, including Island Hunters and House Hunters International.
3. It's really hard to get on the show
According to a former House Hunters participant, getting on the show is no easy task. In a piece for UtahValley360.com, Kim Christenson wrote that the producers get anywhere from 100 to 200 applications a week. She adds that the producers want people with a story. Maybe they're quirky, maybe they want unusual features in their house. If there's conflict, all the better. 
Think you've got what it takes? You can apply for the show on the Pie Town Productions website. But be ready for a phone interview and a 10-minute audition video if you make it far enough in the process.
4. Local news often tips off future House Hunters properties
If you really want House Hunters spoilers, you don't have to look hard. Chances are good that your local news outlets will plug a house that's coming to House Hunters before it airs. Take this recent out from ABC 13 (KTRK) in Houston, Texas. The outlet gave locals a video tour of the house earlier this month. Set Google Alerts to see if the show will be shooting in your area soon and keep an eye on local news.
House Hunters airs on HGTV weeknights at 10 p.m. Eastern.